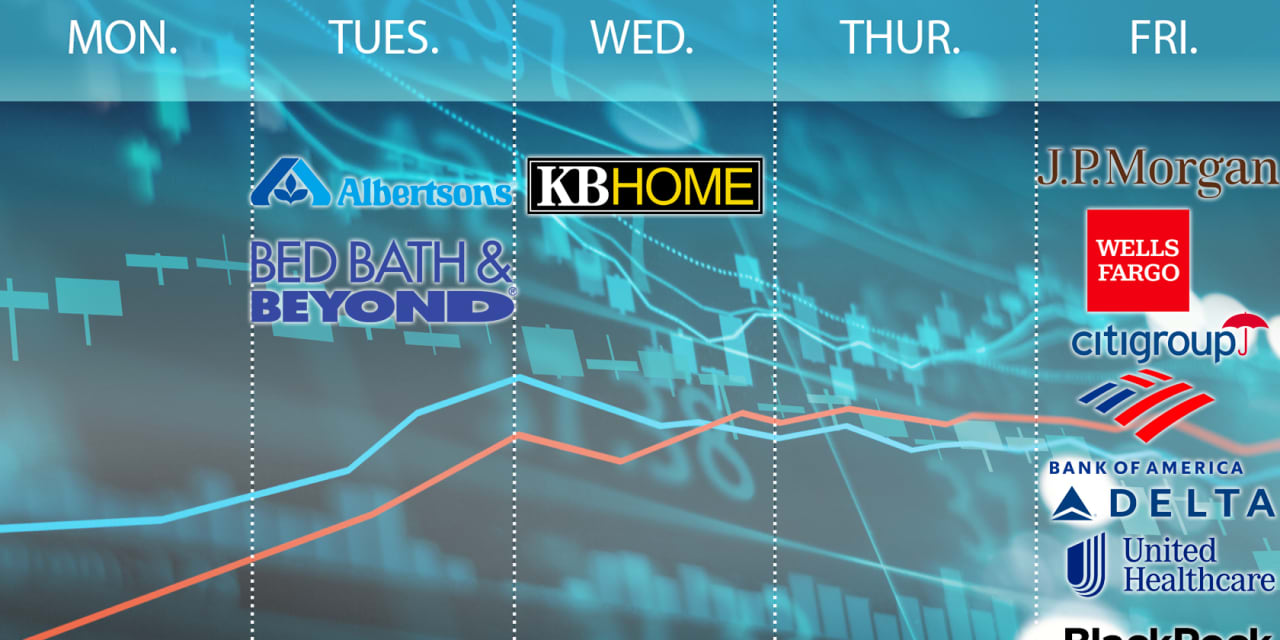 The bar for companies' fourth-quarter earnings continues to get lower as Wall Street's hopes for a holiday-season jolt fade and layoffs pile up in tandem with ongoing agita over a possible recession.
Analysts on average estimated that fourth-quarter earnings for S&P 500
SPX,
-0.08%
companies would fall 4.1%, FactSet said on Friday. That's a sharp shift from the 3.3% decline that had been expected a week earlier, led largely by dimmer hopes for the finance sector, whose biggest players — including JPMorgan Chase & Co.
JPM,
-0.41%
and Bank of America Corp.
BAC,
-1.51%
— report results on Friday.
Wall Street's faith in the holiday season, which tends to give businesses a fourth-quarter boost, has deteriorated steadily since the end of September. Fourth-quarter earnings for consumer-discretionary companies — like Amazon.com Inc.
AMZN,
+1.49%
and Target Corp.
TGT,
-2.37%
— were expected to fall 20.3% as of Friday, according to FactSet. On Sept. 30, they were expected to fall 7.1%.
For more: One company could determine if U.S. corporate profits rise to a record next year
Roll it all together and you get a quarter where any remotely good news could mean jubilation for the markets, and a lack of good news could mean disaster.
"Expectations are low. Sentiment is weak," said Sheraz Mian, director of research at Zacks Investment Research. "Anything that comes in even marginally better than that will be perceived favorably by the stock market. This, in essence, will be a replay of what we saw in the preceding reporting cycle."
But Mian added that signs of a severe recession, in his view, weren't there, even as the economy slows. And he said the labor market was still strong and many consumers were in good shape, having held onto at least some of the savings they amassed during the first two years of the pandemic. While businesses' profitability has come down, that decline is from record levels, he said.
Adobe Inc.
ADBE,
+2.77%
reported on Thursday that online sales for the 2022 holiday season hit a record $211.7 billion, up 3.5% from a year ago and above its own expectations. Adobe said the spending was spurred by "net-new demand, and not simply higher prices."
And on Monday, apparel chain American Eagle Outfitters Inc.
AEO,
-0.60%
said its fourth-quarter sales and gross margins were tracking at the higher end of its expectations, fueled by the "second highest holiday sales period in company history" following a record in the prior year. Abercrombie & Fitch Co.
ANF,
+8.73%
also boosted its outlook for sales and operating margin following stronger-than-expected holiday sales. 
For more: Online holiday sales top $210 billion, beating expectations
Worse news surrounding the holidays, however, hasn't exactly been hard to find.
Macy's Inc.
M,
-7.68%
stock on Friday tumbled after a more tepid holiday-period sales forecast, and its CEO said "the consumer will continue to be pressured in 2023." Bed Bath & Beyond Inc.
BBBY,
+23.66%
is reportedly preparing to file for bankruptcy after its own holiday sales fell short. Amazon, which fields a massive amount of holiday demand every year, is among the latest large companies to announce thousands of layoffs as the tech industry comes off a pandemic-era boom. Shares of athleisure giant Lululemon Athletica Inc.
LULU,
-9.29%
fell on Monday after the company gave a less upbeat fourth-quarter profit and margin forecast, with Jefferies analysts calling "game over" on the stock and saying gross margin "has peaked and sales upside is waning."
Still, with the Federal Reserve — and consumers — hoping for prices to fall after the raging inflation of 2022, investors will be focused squarely on executives' forecasts for the year ahead. Some on Wall Street are looking for companies to tighten up costs even more.
"A lot of companies have either announced or signaled that they're contemplating cost actions," said Christopher Marangi, co-CIO for value at Gabelli Funds. "So we'd expect to hear more about that in the fourth quarter."
Marangi said companies' pricing power — the ability to raise prices or at least keep them elevated — was likely more limited than what it had been. And after price increases helped fatten profit margins over the past two years, FactSet expects those margins at S&P 500 companies to come in at 11.5% for the fourth quarter. That would be the lowest since the fourth quarter of 2020, when COVID-19 restrictions were still in place in many areas.
The results will arrive as the Federal Reserve, in an effort to preserve longer-term economic stability, tries to raise businesses' borrowing costs in an effort to reverse the growth that has pushed hiring, wages and, in turn, prices, higher. Companies have passed their own costs along to consumers. However, some executives have said demand is still strong enough for them to keep prices higher.
See also: 'Markets are going to get rocked' as Fed is likely to push rates higher, economist warns
"Unless companies feel that pressure, the Fed will not have much confidence that it's putting the inflation genie back in the bottle," Mian said. "In a fight between companies and the Fed, nobody has any doubt who the winner will be. And the sooner they realize that, the sooner it will be good for all of us."
But even if the Fed wins that battle, the losers may ultimately be investors trying to stomach a hit to earnings, along with employees. With the central bank's actions ultimately targeting the labor market, many worry that its economic engineering will force companies to cut jobs.
"The Fed can never publicly say that they want companies to announce layoffs," Mian said. "But they are secretly hoping for the labor market to start cracking, at least to some extent."
This week in earnings
For the week ahead, nine S&P 500 companies, including two components of the Dow Jones Industrial Average
DJIA,
-0.34%,
are set to report.
Ailing home-goods retailer and meme stock Bed Bath & Beyond reports quarterly results on Tuesday. Grocery chain Albertsons Cos. Inc.
ACI,
+0.53%
also reports Tuesday, as its deal to combine with Kroger Co.
KR,
+0.98%
draws more scrutiny amid concerns about higher food prices, competition and grocery-store accessibility. Homebuilder KB Home
KBH,
-0.41%
releases results on Wednesday amid expectations for a continued housing-market slump this year.
Bank earnings preview: Banks gain favor in risk-off environment, but earnings uncertainty remains
Friday will be all about the big banks, air travel and health care. Results are due from JPMorgan, Bank of America, Citigroup Inc.
C,
+0.49%
and Wells Fargo & Co.
WFC,
-0.96%
and will offer a bigger overview on the state of the economy, consumer borrowing and business dealmaking as the Fed raises interest rates. Delta Air Lines Inc.
DAL,
+2.05%
reports on Friday, as Wall Street tries to gauge how much momentum is left in last year's travel rebound. Health-insurance giant UnitedHealth Group Inc.
UNH,
+0.01%
reports Friday as well.
The call to put on your calendar
Delta and travel demand: Delta Air Lines last month raised its fourth-quarter earnings outlook. But the air carrier reports after the COVID-era travel rebound at the end of last year ran straight into harsh weather and — for Southwest Airlines Co.
LUV,
+2.03%
— a massive short-circuiting of the technology that handles staffing as flight cancellations piled up.
Outside Southwest, airline executives have generally remained bullish on travel demand, despite higher fuel costs and struggles to staff up after a wave of departures when the pandemic hit in 2020. Those costs, along with strong pent-up demand, have kept airfares higher.
"Based on comments made in December in conversations with managements, we believe bookings for the quarter are robust, and [the first quarter of 2023] should see improvement over [the first quarter of 2022]," Cowen analyst Helane Becker said of the airline industry in a note on Friday.
She also said that a strong first quarter could come from easier comparisons, given that the omicron variant of COVID-19 put a damper on business in early 2022.
Other analysts have cast doubt on other areas of the travel industry. And Raymond James analyst Savanthi Syth has said her forecasts call for a "demand contraction" in the first half of this year without a "meaningful pullback" in fuel prices.
The numbers to watch
Bank earnings, credit losses: JPMorgan, Bank of America and the other big banks reporting in the week ahead are among the few companies whose profits can benefit when the Fed raises interest rates, since they generally raise their own rates on many loans in the process. But for the fourth quarter, any benefits from higher rates will clash with an increasingly stretched consumer, a scenario that seems unlikely to spare the financial sector.
As detailed in a preview from MarketWatch's Steve Gelsi, banks like Goldman Sachs Group Inc.
GS,
+1.41%
and Morgan Stanley
MS,
+0.09%
are expected to make staff cuts. Loan growth during the fourth quarter is expected to cool off as rates rise. The same goes for dealmaking overall, which will likely weigh on investment banking and IPOs as businesses grow more cautious. Investor payouts, such as buybacks and dividends, could be thinner.
Morgan Stanley analysts, in a note on Tuesday, said credit-card delinquencies, or overdue payments, and net charge-offs — a measure of debt that is unlikely to be repaid — "are accelerating at the fastest pace since the Great Financial Crisis."
In a note on Friday, Morgan Stanley analysts said they expected banks to set aside more money as they try to pad themselves against potentially souring credit.
"With most U.S. economists forecasting either a recession or significant slowdown this year, banks will likely incorporate a more severe economic outlook in their CECL [current expected credit losses] base case outlooks, and/or increase the probability of their CECL bear case," they said. "Either way, reserves should move up."