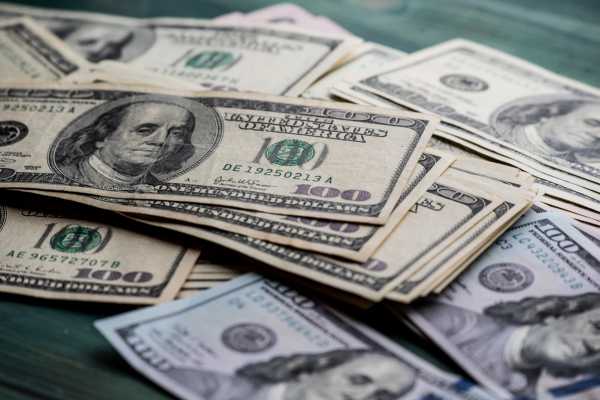 The U.S. Dollar is inching higher against a basket of major currencies on Friday as investors await the government's jobs and wage data report for December, due to be released at 13:30 GMT.
The dollar jumped on Thursday after data pointed to a strong jobs market, supporting the prospect that the Federal Reserve could keep hiking rates at an aggressive pace.
At 05:49 GMT, March U.S. Dollar Index futures are trading 105.000, up 0.172 or +0.16%. On Thursday, the Invesco DB US Dollar Index Bullish Fund ETF (UUP) settled at $28.26, up $0.25 or +0.88%.
Today's Non-Farm Payrolls report will be used by investors to gauge how high the U.S. central bank is likely to raise rates, and for how long. It is expected to show that employers added 200,000 jobs in the month, while average hourly earnings are predicted to have risen 0.4% in December for an annual increase of 5%.
Fed funds futures traders increased their bets on Thursday that the Fed could hike rates by 50 basis points at its meeting concluding on February 1. It is now seen as a 48% chance, up from 31% on Wednesday morning, with a 25 basis points increase still seen as marginally more likely.
A larger than expected jump in average hourly earnings could drive up the chances of a 50 basis points rate hike by the Fed. This would be bullish for the U.S. Dollar.
Daily March U.S. Dollar Index
Daily Swing Chart Technical Analysis
The main trend is up according to the daily swing chart. A trade through the next main top at 105.445 will reaffirm the uptrend. A move through 103.145 will change the main trend to down.
The intermediate range is 106.775 to 102.875. The market is currently straddling its pivot at 104.825.
The main range is 107.500 to 102.875. Its 50% level at 105.188 is the next upside target. The major resistance is the long-term 50% level at 105.723.
The short-term range is 105.445 to 102.875. Its 50% level at 104.160 is the nearest support. The major support is the long-term Fibonacci level at 103.664.
Daily Swing Chart Technical Forecast
Trader reaction to 104.825 is likely to determine the direction of the March U.S. Dollar Index on Friday.
Bullish Scenario
A sustained move over 104.825 will indicate the presence of buyers. This could trigger a quick rally into 105.188, followed by the main top at 105.445.
Taking out 105.445 will reaffirm the uptrend with 105.723 the next target. This is a potential trigger point for an acceleration to the upside.
Bearish Scenario
A sustained move under 104.825 will signal the presence of sellers. This could trigger an acceleration to the downside with 104.160 – 103.664 the next major target zone.