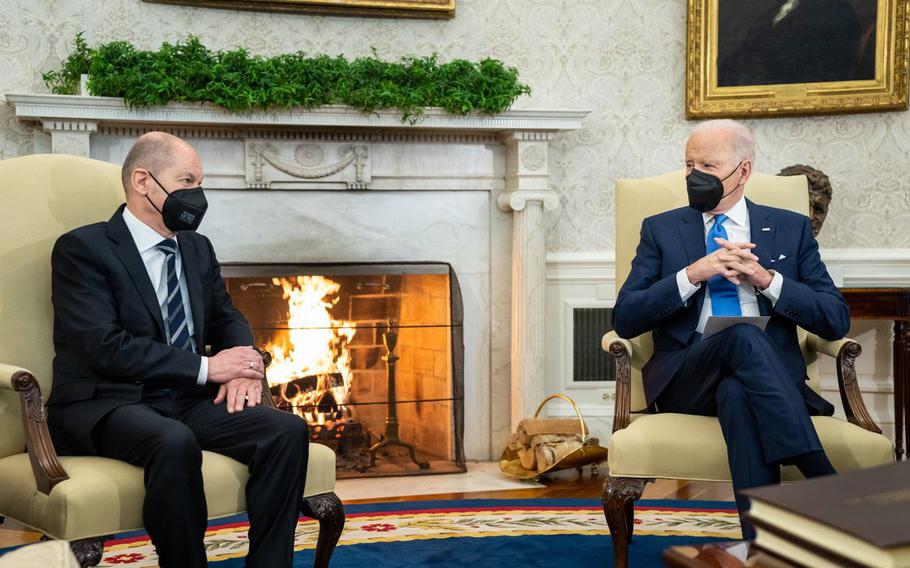 Chancellor Olaf Scholz said he's sure Germany will avoid a recession this year, offering reassurance for Europe's largest economy as it faces down Russia's energy squeeze.
Germany is getting through the winter energy crunch in better shape than feared just a few weeks ago, and Scholz said that diversifying gas supplies has been critical in helping to keep the economy going.
"I'm absolutely convinced that this will not happen – Germany going into a recession," Scholz said Tuesday in an interview with Bloomberg Editor-in-Chief John Micklethwait. He also voiced confidence about smoothing over a dispute with the U.S. over climate subsidies and managing China's emergence as a political and economic power.
A rapid pivot to new non-Russian energy sources and lower demand from unusually warm weather have all but eliminated the risk of blackouts this winter, offering a boost to the 64-year-old chancellor as he looks to maintain public support for Ukraine's war effort and keep his three-party coalition in line.
Energy concerns have dominated Scholz's tenure so far after Vladimir Putin's invasion of Ukraine exposed the vulnerability of German supplies. With Russia providing 55% of the country's gas before the war, Scholz was forced into urgent action to head off the threat of shortages during the coldest months.
The Social Democrat was the surprise winner of 2021's federal election and was almost immediately plunged into turmoil by the conflict. Days after the invasion, Scholz announced a massive spending plan to revamp Germany's moribund military and has started to adapt the economy to the shutoff of cheap Russian gas, but his broader promise of a "Zeitenwende" — German for historical turning point — remains a work in progress and he was elected with the lowest vote share of any chancellor since World War II.
While he acted fast on short-term issues, Germany still needs to accelerate the transition to renewable power for its industrial base to remain competitive, while its reliance on China has become a risk as Beijing flexes its power on the international stage and targets Germany's role in advanced manufacturing.
For Scholz's predecessor, Angela Merkel, China was a fast-growing market that fueled the profits of German manufacturers. But Xi Jinping's ambivalent position over the war in Ukraine has underlined the new complexities of that relationship.
Berlin is alert to the risks of building up too much dependence on China, and with about €250 billion ($270 billion) in annual trade at stake, Scholz has to strike a delicate balance between cooperation and caution.
He's made a point of cultivating relations with other Asian nations such as India, Japan and Indonesia, and didn't visit China until November — nearly a year into his term. All the same, as the biggest car market in the world, China is critical for Volkswagen, Mercedes-Benz Group and BMW, and that exposure extends to the hundreds of smaller, privately held manufacturers that represent the backbone of the economy.
"We have to learn our lesson from the war and a lot of other big problems we are facing," said Scholz, before heading to the World Economic Forum, where he will deliver a special address on Wednesday. "We should differentiate our supply chains, we shouldn't go for one country alone."
He's the only Group of Seven leader traveling to the gathering in Davos, Switzerland — a sign of how he's trying to carve out a larger role on the world stage after a rocky start.
Scholz has also had to manage a more problematic relationship with the U.S. than Merkel faced for most of her time in office. Relations with Washington deteriorated during her final years, when former President Donald Trump accused Germany of free-riding on joint defense expenditure and exploiting allies economically through its high trade surplus.
Those tensions have lingered even if his rapport with Joe Biden is much more cooperative. Germany and other European allies say Biden's green investment plan unfairly subsidizes American companies and risks luring investment away from Europe, though Scholz said he's confident the issue can be resolved without a trade war.
"I'm sure that it will not happen – we are working very hard to avoid a situation like this," he said.
The tensions over trade haven't prevented Scholz from cooperating with the U.S. to support Ukraine's armed forces.
Germany has been one of Kyiv's biggest suppliers of military equipment, even though Scholz is now coming under pressure to supply Leopard battle tanks. The prospect of sending some of the country's most powerful combat vehicles to engage the Russian army is particularly sensitive for a German leader as it evokes images of battles on the eastern front in World War II. To that end, Scholz has been careful to coordinate deliveries with the U.S. and said he will continue this approach.
"We are never going alone," he said. "This is necessary in a very difficult situation like this."
He also set out a firm line on Russia, saying that he wouldn't pull back support for Kyiv and that it was up to Putin to its withdraw troops from Ukraine's territory.
"We support Ukraine as long as it is necessary, with all the means that we can use," he said, adding his customary caveat that NATO allies must avoid being drawn into direct conflict with Russia.
For all the challenges crossing his desk, the chancellor struck a cautiously confident tone, with the unexpected resilience of Germany's economy lending authority to his plans.
"The risk to Germany was really the energy situation going into the winter," Gary Cohn, a former economic adviser to Trump, said in a Bloomberg TV interview. "I think Germany's going to get through the winter fairly easily with energy, and I think they're going to power through this. So I'm in agreement with the chancellor."
Output probably stagnated in the fourth quarter, defying widely held expectations that the period would mark the beginning of a recession on the back of soaring inflation. Instead, new liquefied natural gas terminals have been sprouting up on the Baltic and North Sea coasts, giving Germany the flexibility to keep its economy going, Scholz said.
"We are constantly increasing our capacities for importing gas," Scholz said. "I'm sure that we will be able to go through the situation again."
Bloomberg's Rosalind Mathieson, Chad Thomas, Iain Rogers, Petra Sorge, Jana Randow, Alexander Weber, Zoe Schneeweiss and Craig Stirling contributed to this report.