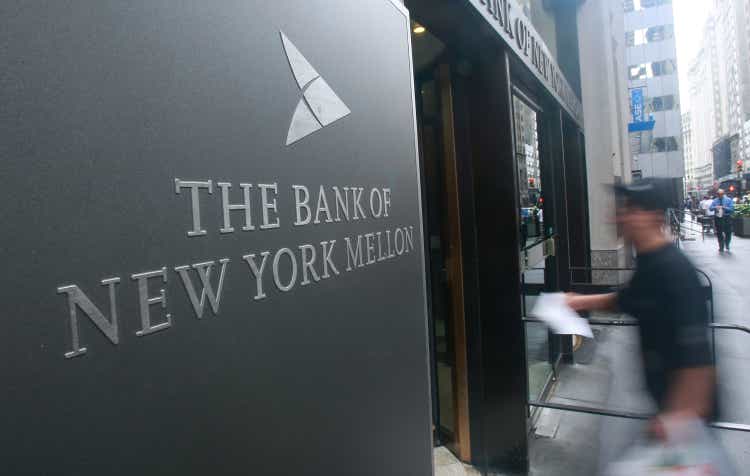 BNY Mellon (NYSE:BK) CEO Robin Vince said Tuesday that the market has likely seen "peak selling" in stocks, based on its internal flow data. However, he warned that interest rates could stay higher for longer than many investors currently expect.
In an interview with CNBC, the head of BNY Mellon (BK) also commented on its planned layoffs, saying the move was part of an effort to cut costs wherever possible in order to achieve more efficient management.
On the stock market, Vince stopped short of calling a bottom in the stock market but reported that the firm's data has pointed to an "abatement" of equity selling.
"What our data has been showing us is we've probably seen peak dollar at this point. And we've also probably seen peak selling of U.S. equities, at least for the moment," he noted.
That said, Vince remained concerned about interest rates, arguing that the general market continues to underestimate how long the Federal Reserve will likely keep rates at elevated levels. "We perceive the risk of staying higher for longer than the market is currently expecting, or at least it priced into the market," he stated.
In its Q4 earnings report, released on Friday, the company reported mixed results. AUM dropped about 25% Y/Y.
Looking at the BK's stock performance, it lost around 21% over a period of one year. Meanwhile, shares rose about 2% in Tuesday's intraday action. This came as the S&P 500 (SPY) (SP500) showed a fractional loss going into the final half hour of trading.
For a deep dive into the prospects for the financial institution, Seeking Alpha contributor Cory Cramer says, "Bank of New York Mellon Should Be Treated As No-Growth Business By Investors."