From 4h ago
Ukraine 'holding on' to Soledar as Russia builds up forces, says minister
Ukrainian forces are "holding on" as "fierce fighting" continues in the eastern city of Soledar, Ukraine's deputy defence minister Hanna Maliar has said.
Kyiv has denied that Moscow's forces have encircled and captured Soledar, after claims by the head of the Wagner mercenary group, Yevgeny Prigozhin, that the city had fallen.
Russia is building up its forces in Ukraine, with the number of Russian military units rising to 280 from 250 a week earlier, Maliar told a news briefing this morning.
She said:
Fighting is fierce in the Soledar direction. They [the Russians] are moving over their own corpses.
She added:
Russia is driving its own people to the slaughter by the thousands, but we are holding on.
The Russian capture of Soledar and the city's saltmines would have symbolic, military and commercial value for Moscow. But the situation in and around Soledar appears fluid and neither side's claim can be independently verified.
The military situation in Ukraine remained "difficult", with the heaviest fighting on the eastern front, Brig Gen Oleksiy Gromov told the briefing.
Russian forces were trying to cut through Ukrainian lines and surround Ukrainian troops, he said.
Hello everyone. It's Léonie Chao-Fong here again, taking over the live blog from Jamie Grierson to bring you all the latest developments from Ukraine. Feel free to get in touch on Twitter or via email.
Key events
The EU's top representative to Ukraine, Matti Maasikas, said the last of eight new members have been appointed to Ukraine's High Council of Justice (HCJ), describing the move as "great news".
The appointments to the HCJ, an important judicial oversight body, are seen as key to Kyiv's push to reform its judiciary.
Ukraine has stepped up efforts to implement seven European Commission-defined reforms in order to open accession talks as soon as possible.
Judicial reform within the HCJ and the High Qualification Commission of Judges (HQCJ) was identified as one of Ukraine's key priorities when the country received official EU candidate status in June.
Ukraine's parliament has already passed all the legislation sought by the EU before the start of accession talks, the speaker of the assembly said last month. But implementing those laws and achieving membership is widely expected to be a long road, with fears that powerful interests could push back against reforms, especially in the judiciary.
Reuters has put together a profile of Russia's new war commander Valery Gerasimov:
Russian president Vladimir Putin's defence minister has appointed Russia's most senior general, chief of the general staff Valery Gerasimov, 67, to lead its war in Ukraine.
Gerasimov was appointed chief of the general staff and deputy defence minister by Putin on 9 November 2012, three days after Putin's long-time ally Sergei Shoigu was made defence minister.
Each of the men holds one of the three nuclear briefcases that can order a Russian nuclear strike.
Gerasimov played key roles in Russia's seizure of Crimea from Ukraine in 2014 and in Russia's game-changing military support for President Bashar al-Assad in the Syrian Civil War.
The US state department sanctioned him the day after the invasion of Ukraine, saying he was one of three senior Russians alongside Putin who were directly responsible for the war.
Nevertheless, Gerasimov sometimes speaks with US army general Mark Milley, the chairman of the US joint chiefs of staff.
Gerasimov was born on 8 September, 1955, in Kazan, rising through the ranks from Russia's tank forces to graduate in 1997 from the military academy of the general staff.
Donetsk police reportedly unable to confirm mercenaries' claim about missing Briton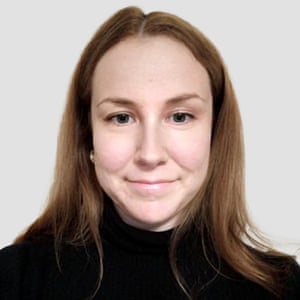 Isobel Koshiw
Ukraine's public broadcaster Suspilne is reporting Donetsk police could not confirm claims by the ultranationalist mercenary group, Wagner, that they had found one of two missing Britons dead.
Ukrainian police said on Monday they were looking for Andrew Bagshaw and Christopher Parry, the two missing workers.
On Thursday in a post on Telegram, Wagner did not mention the name of the deceased man but claimed documents belonging to both Britons had been found with the body of one of the men.
Oleksandr Polosukhin, deputy head of the communication department of the Donetsk region police, said in a comment to Suspilne that the police are continuing their investigation and operational measures to establish the whereabouts of the missing persons.
According to the police, the men, aged 28 and 48, left Kramatorsk for Soledar at eight o'clock in the morning on 6 January, and contact with them was lost.
Pavlo Kyrylenko, the head of the Donetsk regional military administration, said special equipment was used to search for the foreign volunteers.
Oleksiy Kurka, the head of the press service of the British embassy in Ukraine, did not answer the question about the death or murder of a British citizen in his comments to Susiplne.
"We are providing support to the families of two British citizens who disappeared in Ukraine, and we are also in close contact with the relevant authorities of Ukraine to clarify all the circumstances," he told Suspilne.
The Russian president, Vladimir Putin, has publicly berated his trade and industry minister, Denis Manturov, for the absence of aircraft contracts, Reuters reports.
The reprimand comes after Manturov said he would provide 175bn roubles (£2.11bn) to state airline Aeroflot to lease aircraft.
Speaking at a televised meeting with officials, Putin told Manturov to speed up the process of aircraft orders, saying that the contracts should be completed within a month.
Manturov was responsible for overseeing Russia's weapons industry last summer when shortcomings had been exposed on the battlefield.
During the televised meeting, Manturov explained that his ministry was set to build helicopter engines in St Petersburg previously manufactured in Ukraine – but Putin interjected, telling Manturov there were too many delays.
A Russian soldier has been sentenced to five years in prison for refusing to fight in Ukraine, according to officials.
Marsel Kandarov, 24, did not report for duty in May 2022 as he did "not want to take part in a special military operation", the Moscow Times cites the court press service in the republic of Bashkortostan in the southern Urals. He was detained by police in September.
A court in the Russian city of Ufa found Kandarov guilty of evading military service. He will serve his sentence in a general security regime prison.
No new prisoner exchange agreements were reached during yesterday's talks between Russia and Ukraine in Turkey, according to Moscow's envoy.
Russia's human rights commissioner, Tatyana Moskalkova, held a rare meeting in Ankara on Wednesday with her Ukrainian counterpart, Dmytro Lubinets.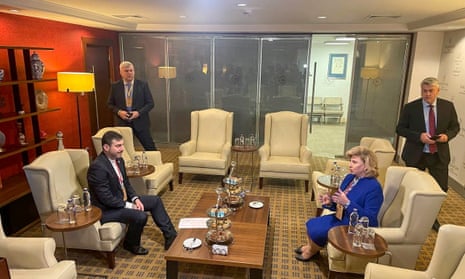 She was later cited as saying that Moscow and Kyiv had agreed on an exchange of 40 prisoners of war each.
But speaking to AFP, Moskalkova said those comments were "misunderstood" and the figure referred to the number of people during "exchanges already happened".
She said she and Lubinets had exchanged lists of wounded soldiers in preparation for a possible future swap, adding:
Such exchanges happen all the time. These agreements are reached by the military, and we work jointly with them.
The commander of Russia's ground forces, Oleg Salyukov, visited Belarus today to inspect the combat readiness of a joint force stationed there, the Belarusian defence ministry said.
Salyukov was yesterday named as one of the deputy commanders of Russia's military operation in Ukraine in the latest of a series of reshuffles, which included the appointment of Valery Gerasimov, chief of the general staff, as its overall commander for the war in Ukraine.
Salyukov's visit came as Russia and Belarus have expanded their joint military training exercises in Belarus, amid growing concern that Moscow is pressuring its closest ally to join the war in Ukraine.
Footage released by Ukraine on Wednesday shows service personnel carrying out a medical evacuation from Soledar.
An armoured vehicle can be seen driving to a building where several personnel carry out a rescue and quickly drive away.
The footage shows the scale of destruction the eastern city has faced since becoming a battleground as Ukrainian forces resist Russian assaults.
Reports that one of the two British men missing in Ukraine has been found dead have yet to be verified, Downing Street has said.
A No 10 spokesperson said:
I think those are speculative reports at the moment.

The reports we have had today are deeply concerning. They have been reported by the Wagner Group as the source of that, so I would urge caution in reporting that until any such claims are verified.
A Russian-installed official in Ukraine's Donetsk region has said "pockets of resistance" remain in the eastern city of Soledar.
Andrei Bayevsky, a military figure and Russian-installed local politician, said:
At the moment, there are still some small pockets of resistance in Soledar.
He added:
Our guys continue to push the enemy in these places. In general, the operation has been going well, and already the western outskirts of Soledar are completely under our control.
Bayevsky's comments today undermine claims made yesterday by Yevgeny Prigozhin, the head of the Wagner private military group, that the city had been taken by Russian forces.