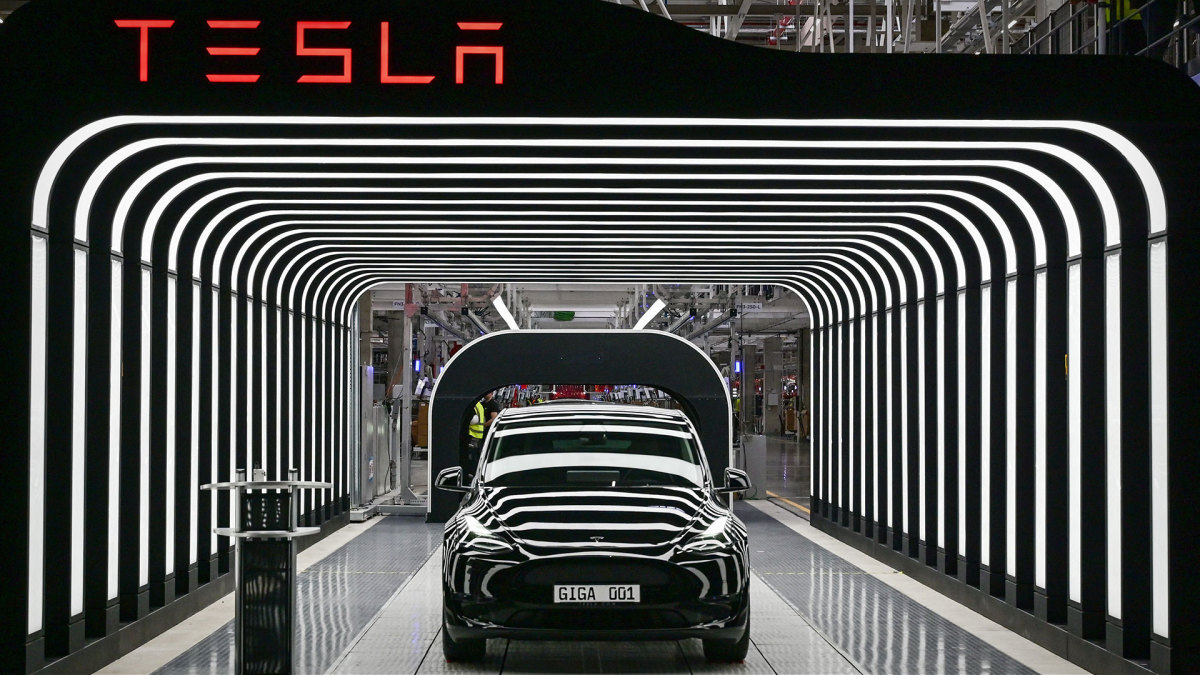 Tesla and Elon Musk want to start the year 2023 with a bang. 
The electric vehicle manufacturer and its charismatic CEO probably want to forget a nightmarish year 2022 on the stock market as soon as possible. 
Tesla stock  (TSLA) – Get Free Report has lost more than 65% of its value in the past year, representing more than $600 billion in market capitalization that has evaporated in twelve months. If retail shareholders of the Austin, based-Texas company fear that the stock market rout may continue, Tesla and Musk now want to draw attention to their efforts and operations.
And on that front, the next few weeks could be filled with announcements.
According to Bloomberg News, the automaker is close to a preliminary agreement with the Indonesian authorities to build production facilities in the country. These production sites will have a capacity of one million vehicles manufactured per year, says Bloomberg News, citing sources familiar with the matter. 
Indonesia's investment minister has confirmed talks with Tesla and Musk to Bloomberg, which nevertheless cautioned that the talks could still fail. 
Nickel is Available in Indonesia
Indonesia already supplies materials necessary for the development of batteries such as nickel to Tesla , a member of the Indonesian ministerial cabinet told CNBC last year. 
"We are still in constant negotiation with Tesla … but they have started buying two excellent products from Indonesia," Coordinating Minister for Maritime and Investment Affairs Pandjaitan told CNBC last August.
He added that the carmaker signed a 5-year contract with local nickel processing companies. Nickel is used to make stainless steel and the batteries, which are the heart of an EV because they determine a vehicle's range and play a key role in its performance and security.
But President Joko Widodo had called on the electric vehicle maker to produce vehicles in the country as well as batteries. A call he reiterated during a visit he paid to Musk in Texas last May.
The two men visited the production site of SpaceX, Musk's company that manufactures rockets in Boca Chica. In a tweet following the visit, Widodo said he discussed technology and innovation with the billionaire.
"Arriving at the Stargate Space X Building, Boca Chica, United States, this afternoon, I immediately met the host, @ElonMusk We talk about technology and innovation," the Indonesian president posted on Twitter, according to a translation of his message by TheStreet.
"It was an honor to meet at Starbase and discuss exciting future projects!" Musk commented without elaborating further on the plans.
Tesla did not immediately respond to a request for comment.
Mexico is Also a Potential Factory Location
The carmaker and Indonesia have reportedly been in talks since at least 2020 over whether the EV maker could invest in nickel in the country and to build a full battery factory.
Indonesia is indeed a major producer of nickel, and the government is working to expand mining and refining. The country has imposed a ban on the export of nickel in an attempt to force companies to settle there in order to open sites to create jobs. Indonesia signed a $9.8 billion agreement with the South Korean group LG to produce lithium batteries, intended for electric vehicles. Lithium batteries require nickel.
Reports of a preliminary deal between Tesla and Indonesia come just days after similar reports regarding Mexico. The carmaker, Bloomberg News reported Mid-December, has been finalizing plans to build a vehicle assembly plant in an industrial area of ​​northeastern Mexico. 
The factory is to be located in Santa Catarina in Monterrey city, the capital of the Nuevo Leon state. It is unclear which models will be produced at the new factory. 
Musk and Tesla are expected to provide an update on all this press information when the fourth-quarter 2022 results are released on January 25.
The company already has four car assembling factories: Austin, Texas and Fremont, California in the United States, Shanghai in China and Berlin in Germany.
Tesla Courted by Other Countries as Well
The first two mainly serve the North American market and have combined production capacity of 900,000 vehicles per year, according to Tesla. They produce all models of vehicles sold by Tesla: Model 3, Model Y, Model X and Model S. 
From mid-2023, the Austin plant will also produce the highly anticipated Cybertruck, in addition to the Model Y.
In Shanghai, the car manufacturer produces vehicles sold in Asia and Europe. However, since the opening of the Tesla plant in Germany in March, the European market should be mainly served by this production site. Giga Shanghai has a production capacity of over 750,000. 
The German factory is the only European production site of Musk's company. It is a car assembly site and a battery development site. It has an annual production capacity of over 250,000.
"2022 is the year we will be looking at factory locations to see what makes the most sense with possibly some announcement by the end of this year," said CEO Musk during the company's 2021 fourth-quarter earnings on January 26, 2022.
Last August, he repeated that he hoped to formally announce the location of the clean-energy carmaker's new gigafactory later this year, in his efforts to produce 20 million vehicles annually by 2030, thus becoming the world's largest carmaker by production volume.
These remarks have encouraged governments in many countries to court Tesla. Indonesia, South Korea, Canada and many others have dangled the incentives they offer in order to become Tesla's new land.