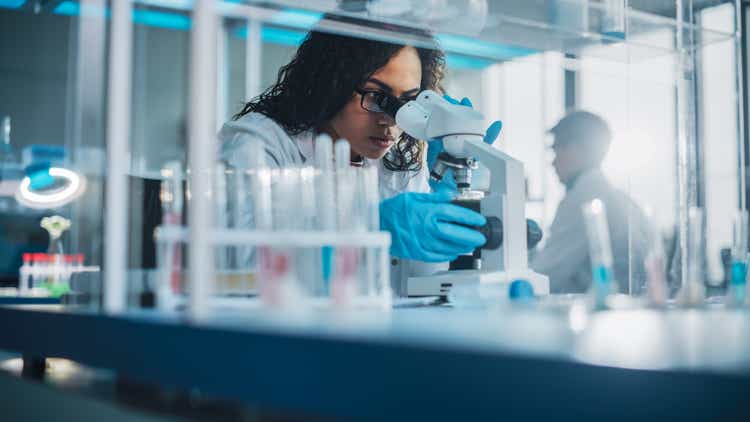 CinCor Pharma (NASDAQ:CINC) is being tendered for $26 per share in cash and a Contingent Value Rights (CVR) by major pharma AstraZeneca (NASDAQ:AZN). At its current market cap, CinCor Pharma sports a market cap of around $1.26 billion. CinCor's lead asset is Baxdrostat (CIN-107). This is described as follows in the merger announcement 8-K:
…a highly selective, oral small molecule inhibitor of aldosterone synthase, the enzyme responsible for the synthesis of aldosterone in the adrenal gland, in development for patient populations with significant unmet medical needs, including treatment-resistant hypertension and primary aldosteronism. Hypertension, which is defined by the American College of Cardiology and the American Heart Association as resting blood pressure above 130/80 mm Hg, is generally acknowledged to be one of the most common preventable risk factors for premature death worldwide. Though often asymptomatic, hypertension significantly increases the risk of heart disease, stroke, and kidney disease, amongst other diseases. It is estimated that as much as 20% of the global population suffers from hypertension, including nearly one-half of the adult population in the U.S., or 116 million hypertensive patients….
It is interesting to take note of the fact CinCor has around $522 million of cash on its balance debt, which is a nice discount for AstraZeneca.
AstraZeneca (AZN) seems to be making an opportunistic acquisition here IF they're right because CinCor just missed the primary endpoint in a trial with its main asset Baxdrostat.
To acquire the company, AZ did have to give a contingent value right that's described as:
Consideration includes non-tradable contingent value right of $10.00 per share in cash payable upon a specified regulatory submission of a baxdrostat product.
In the merger agreement, the milestone is described as follows:
"Milestone" means either (A) the submission by Parent, any of its Affiliates or any other applicable Payment Obligor to the FDA of a new drug application or other regulatory approval application that, if approved, would grant Parent, such Affiliate or any other applicable Payment Obligor the right to market, distribute and sell the Product in the United States or (B) the submission by Parent, any of its Affiliates or any other applicable Payment Obligor to the EMA of a marketing authorization application that, if approved, would grant Parent, such Affiliate or any other applicable Payment Obligor the right to market, distribute and sell the Product in the European Union.
"Product" means
"Product" means any pharmaceutical product that contains baxdrostat (CIN-107) as an active ingredient, whether alone or in combination with any other active ingredient(s).
So basically, when AstraZeneca gets any product approved with Baxdrostat as an active ingredient, the $10 is due. This also needs to happen before 2033. The timeframe is wide, which is favorable as the CVR is less likely to lose value because deadlines aren't achieved (unfortunately, that's one way not to get paid on these things).
CinCor stockholders holding approximately 44.8% of CinCor common stock have entered into a tender and support agreement with AstraZeneca. The acquisition is expected to close in Q1 2023. Things can happen quite fast as HSR runs out, which is 28 days from now.
The stock trades quite a bit above the deal price which implies the market deems the odds are reasonable that the CVR will pay out or another bid is anticipated. I don't think it is the latter as options markets don't seem to reflect that as much and there's also a sizeable break-up fee if the target backs out.
If the deal for some reason breaks, that's quite disastrous as the downside is around $10 or so. I think this is highly unlikely to materialize but it is vital to at least take note of it.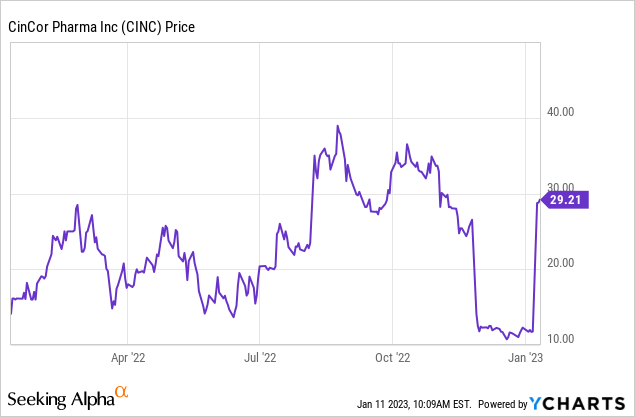 At $29.21 (assuming the deal will close to make things easier), that means I'm paying $3.21 for the CVR. That CVR will then have 100% downside and 211% upside from that price. These are certainly not the best odds I've ever seen on a CVR.
However, there are some good reasons for the market to ascribe it more than a little bit of value.
This milestone is just approval of the main asset that AstraZeneca is buying here. Even though they are buying it at a very nice discount, they're laying out a billion+ here, and presumably that's for Baxdrostat. With a lot of CVR's milestones are tied to sideshows that may or may not be of the greatest interest to the acquirer.
In this case, the milestone is also tied to regulatory approval instead of sales milestones. It tends to be in the company's best interest not to mess with the regulatory approval process as it is very costly. In the past, however, there have been lawsuits over big pharma deliberately undershooting sales milestones. Just so they wouldn't have to pay out on the issued CVR.
What argues against the CVR is that Baxdrostat just missed the primary endpoint in a phase II trial. Oppenheimer analysts commented as follows:
"We view this misstep as eventually correctable but move to the sidelines for now with a neutral rating until greater clarity emerges," the analysts wrote as they removed the CINC price target.
The team voiced disappointment over the absence of a meaningful separation between 2mg dose and placebo in the ITT group.
Additionally, the firm is concerned over a lack of biological explanation behind the finding that baxdrostat at 2mg had a strong effect in a subset of non-Hispanic patients but not Hispanics.
I'm not a biotech expert but what I'm getting from the company and analyst communications on the matter is that 1) Baxdrostat didn't work in the entire population of the study 2) Baxdrostat did work in the non-hispanic segment if you consider that data separately.
For some reason, the sex and ethnicity of participants were tracked. I think there are examples where a compound can work in one segment of the population and not in another. There are countless reasons and/or explanations for why this could be the case. Here's a readable article (but certainly not all encompassing) that delves into some of these aspects:
social determinants of health interact in complex ways with risk factors and contribute to the current reality that four out of ten Hispanics will die of cardiovascular disease (CVD) or cancer.1 Also, Mexicans and Puerto Ricans are about twice as likely to die from diabetes as whites.1 As of 2015, one in six people living in the US is Hispanic1
Below I've included a few slides from the company its presentation on the trial data, starting with the study design:
The baseline demographics:
and the company's conclusions with the important part about the compound having a favorable safety profile:
I come away from this thinking that this isn't necessarily a case of data mining. There can be legit reasons for a compound not proving effective in a subset of the population for a variety of reasons. I can understand analysts' concern with the company not being able to explain the reasons for why this is the case. However, I also know from studying investment data (which can also be very peculiar and complex) that it is sometimes simply too difficult to prove what the exact driver is.
According to Morningstar's analyst Damien Conover, AstraZeneca can be quite savvy with investments:
On the acquisition side and partnership side, Astra has executed well on several deals. The largest recent acquisition of Alexion for $39 billion diversifies cash flows while being opportunistic to acquire a firm trading below its fair value. Alexion also opens up a new therapeutic segment in rare diseases where pricing power remains particularly strong. The firm is also executing well on partnerships. The recent deals with Daiichi for Enhertu and DS-1062 look like astute uses of capital to bring differentiated new drugs into the pipeline. While the firm used equity to finance the Enhertu deal, we viewed Astra's stock as largely fairly valued when the deal was completed. On the negative side, Astra likely underpriced its partial sale of Lynparza to Merck, but at the time, the outlook for the drug was less certain.
It is not key here but worth mentioning that CinCor Pharma is also being held by Perceptive Advisors, which is a biotech-focused fund with a good reputation for making smart investments in the space. After the deal closes, as an investor, you only have $3.2 per share still at stake. There are multiple pathways to success through the FDA or the EMA. If I look at high-level clinical trial success data for cardiovascular drugs, it is looking at a 60%-70% success rate from phase 3 trial to approval. The rate of success is 100% when only trials with biomarker data are considered (however, that data is based on only 2 trials). I think the numbers support the valuation the market is putting on the CVR. I could see it supports even a slightly higher valuation. I don't think it is the greatest merger-related CVR I've ever seen. However, I do think the upside to the downside of roughly 2:1 is favorable enough to add this to my portfolio in small size. With the added note that I'm not expecting a deal break or overbid although these things can occur. If I would be able to understand the odds of a phase 3 success better, I'd be inclined to increase my investment.
Editor's Note: This article discusses one or more securities that do not trade on a major U.S. exchange. Please be aware of the risks associated with these stocks.