view original
post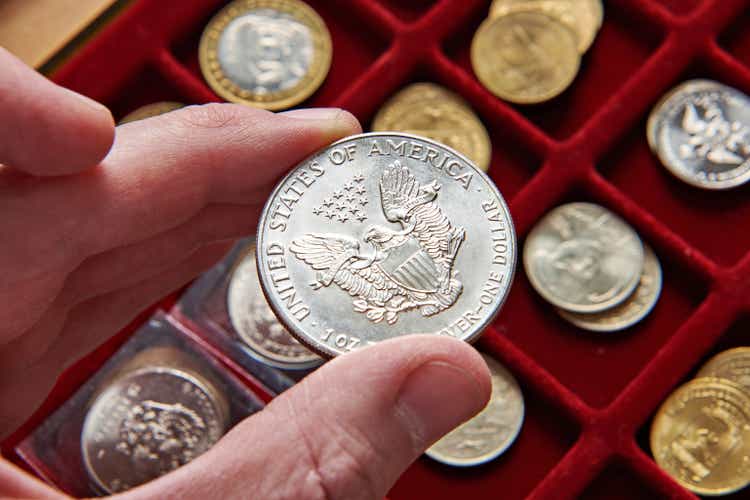 A-Mark Precious Metals, Inc. (NASDAQ:AMRK) is a leader in downstream precious metals services with a diversified platform that includes wholesale, trading, private minting, secured lending, and logistics. Its e-commerce presence through "JM Bullion" is recognized as the largest U.S. gold and silver retailer which has captured strong demand for bullion coins and bars.
A growing number of customers has driven an impressive earnings trend with the stock a massive winner in recent years. We last covered the stock with a bullish article back in 2021. Even as the price of gold was volatile over the period, AMRK delivered a positive return and also outperformed the broader market.
Our update today highlights a new wave of momentum in the precious metals driven by several macro factors that should be positive for investment demand within A-Mark's core retail business. We like AMRK as a unique play on the sector with a distinct equity exposure compared to mining stocks or even metals price-tracking ETFs. With a bullish outlook for gold (GLD) and silver (SLV), we believe AMRK can continue to lead higher.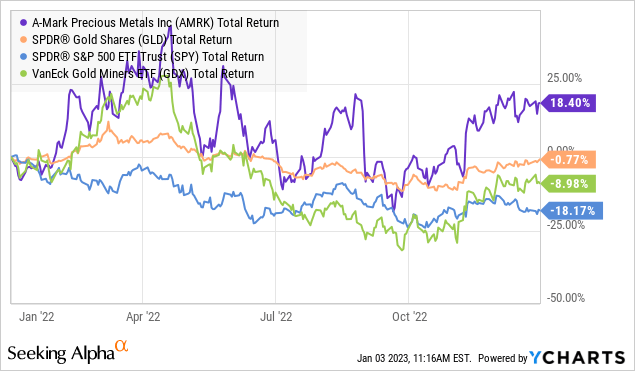 AMRK Key Metrics
AMRK last reported its fiscal 2023 Q1 earnings in early November with EPS of $1.83, up 70% year-over-year, and also $0.12 ahead of market estimates. The story here is that while consolidated revenue of $1.9 billion declined by 5.5% from the period last year, an ongoing sales shift towards the direct-to-consumer segment has driven firming margins.
While trading, wholesale, and secured lending activities faced the impact of lower metals pricing and the broader financial market weakness, the strength from the consumer-facing retail side has added to profitability. A net gross margin of 4.0% climbed from 2.8% in Q1 2021 helping EBTIDA reach $62.2 million, up 52% y/y.
The company has seen high demand against ongoing industry supply constraints particularly among "sovereign coins". It's been widely reported that certain high-profile coins like the "U.S. American Silver Eagle" have faced limited production translating into wider premium spreads which are captured by A-Mark's operation. Separately, A-Mark's branded bullion and private coin collections also benefit from a tailwind as an alternative option at a typically lower markup over the metal for consumers. These factors have played into the earnings.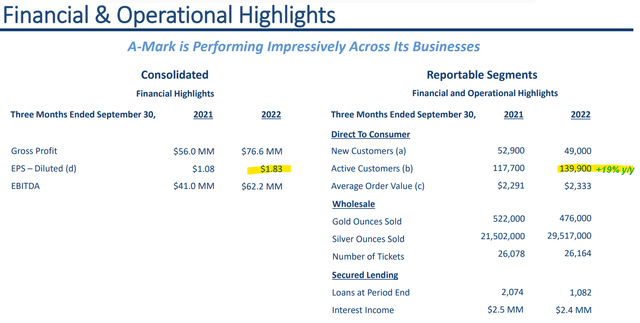 Operationally, the trend is evident through a 19% increase in the number of active retail customers during the quarter to 139,900 while the average order value also climbed marginally to $2,333. An interpretation here is that the growing number of total customers are making more purchases on the sites which include JM Bullion and specialty brands like "Pinehurst Coins" and "Provident Metals".
On the wholesale side, the total number of "tickets" reflecting product orders was up modestly even amid a 9% decline in the number of gold ounces sold. This was balanced by a 37% increase in the silver business to 29.5 million ounces.
Finally, we note that A-Mark maintains a rock-solid balance sheet that ended the quarter with $64.6 million in cash. There is $119 million in long-term debt although this is related to the secured lending business as an asset-backed securitization. There is also a line of credit supporting the trading and logistics business.
All this is in the context of over $255 million in free cash flow generated over the past year which covers the recently initiated regular quarterly dividend of $0.20 that represents an annualized payout of approximately $20 million. At the current stock price, the forward yield is around 2.3%.
What's Next for A-Mark
The takeaway for us when looking at A-Mark in 2022 is that despite volatile precious metals prices, the company was able to capture growth from both structural investor appetite for coins and bars, along with more "organic" trends based on its strategy execution.
Initiatives to expand its direct-to-consumer reach and engage with more new customers can represent a growth runway as part of the long-term outlook. The company continues to move forward with targeted acquisitions including the recent $4.5 million deal bringing on board the bullion dealer "BGASC LLC" into its platform which helps consolidate the market position. There is also an effort to expand internationally and even enter wealth management services.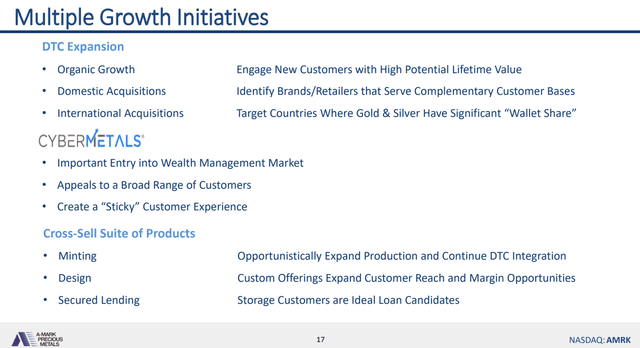 These measures represent an underlying level of diversification that goes beyond the daily price swings of gold and silver as a strong point to the company's investment profile. At the same time, it's clear that there's a connection between the strength in precious metals prices as a driver of demand for physical coins and bars as an investment. A scenario where gold takes out the all-time high near $2,100 an ounce would likely drive a new wave of speculative momentum leading to strong sales, particularly on the retail side of the business.
As mentioned, gold and silver have trended higher in recent months and are now trading at the highest level since the first half of last year. Gold breaking above the all-important $1,800/oz level while silver is currently trading above $24/oz reflects a bullish tailwind that we believe has room to run.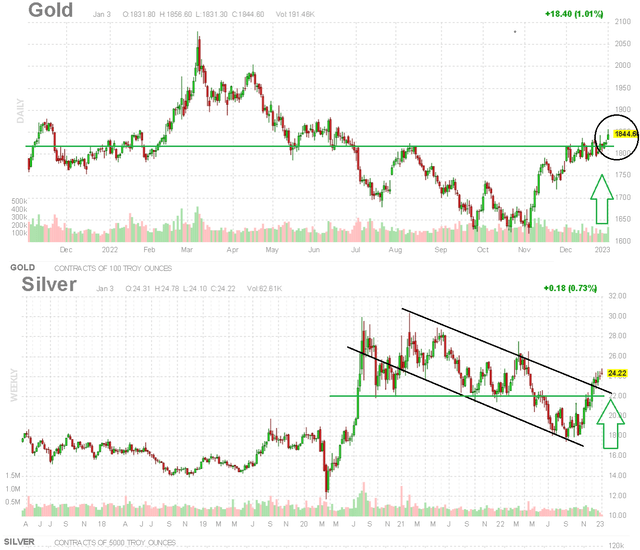 In explaining this move, we can point to the weaker U.S. Dollar that has corrected sharply from its highs reflecting the pullback in interest rates. The dynamic ties into a view that inflation has peaked and the Fed may be approaching the end of the rate hiking cycle or even opening the door for rate cuts towards 2024. The setup is positive for commodities in general that are sensitive to trends in the Dollar but gold and silver also capture themes as a store of wealth and anti-Fed trade in an environment of ongoing macro uncertainty.
On the other hand, even with a sense that the business is relatively diversified against direct precious metals pricing, it's fair to say sharply lower prices or a deep breakdown would force the reassessment of any bullish case. A scenario where the Dollar regains strength, possibly as a response to a sharp rebound of interest rates expectations with an eye on real interest rates could be bearish for precious metals overall and limit demand for coins.
We'll take it one step at a time, but we see more upside to this move with gold ultimately targeting $2,000 as an initial price target while silver has a path to retest resistance around $28.00/oz.
As it relates to AMRK, the backdrop should work as a tailwind for demand and higher sales over the next few quarters as excitement builds among investors positioning for a new bull market in precious metals. According to consensus, the company is forecasted to reach full-year fiscal 2023 EPS of $5.87, up 8% from fiscal 2022 while revenue of $8.0 billion, if confirmed, would be 2% lower year-over-year. In our view, these estimates may prove to be too conservative especially if gold and silver rally higher.

AMRK Stock Price Forecast
There's a lot to like about AMRK which can work in the context of a broader precious metals equities exposure for diversification beyond mining companies. We like the mix of long-term growth potential and good value including the new regular dividend.
We rate AMRK as a buy with a price target for the year right back to its all-tight high set in early 2021 around $44.00, representing a forward P/E of 8x on the current consensus 2023 EPS. Keep in mind that the valuation multiples are discounted relative to the market based on the business model that includes a financing arm. The direct-to-consumer retail segment alone commands a higher spread.
The company will likely report its next quarterly earnings in early February, although a date has not yet been confirmed. The gross margin and operating metrics including customer trends will be key monitoring points.