Here is what you need to know on Monday, January 9:
Markets got another boost for risk assets as China reponed its borders. This saw Asian stocks move higher and the Aussie and Kiwi Dollars gained notably in the currency sphere. JPMorgan was out with a note saying this could add 1% to Australian GDP over the next two years. So far the moves in Europe are more constrained with mixed performance, while the Nikkei and Hang Seng performed positively. Tesla (TSLA) looks for a stronger open on waiting time reports, but Bank of America (BAC) has slashed its price target for Tesla, so it remains to be seen if the gains can hold.
The US Dollar is lower at 103.63 for the Dollar Index. Oil boosted by the China news is up to $76.10, while Gold is stuck at $1,875. 
European markets are mixed, FTSE is lower by 0.2%, while Dax is +0.8% and Eurostoxx is +0.3%.
US futures are all green: Nasdaq +0.6%, S&P +0.5% and Dow +0.3%.
Wall Street top news
Moderna (MRNA) sees $5 billion in covid vaccine sales in 2023 compared to $18 billion in 2022.
Tilray (TLRY) misses on earnings.
Lululemon (LULU) lowers margin guidance.
Bed Bath & Beyond (BBBY) jumps 17% despite bankruptcy worries.
Ferrari (RACE) is named top pick by Bank of America. It's always a top pick for me!
Reuters headlines
Goldman Sachs (GS) to start cutting thousands of jobs midweek -sources
Tesla (TSLA) delivery time is longer on some China models after discounts.
AstraZeneca Plc (AZN) & CinCor Pharma Inc: The company said it has struck a deal to buy CinCor for up to $1.8 billion to bolster its arsenal of heart and kidney drugs. 
Alcoa Corp (AA): The Aluminium producer said it expects production at its partially owned Kwinana alumina refinery in Western Australia to be cut by about 30% due to a shortage of gas supply.
Alibaba Group Holding Ltd (BABA): The Chinese e-commerce giant is planning a logistics hub at Istanbul Airport and a data centre near the Turkish capital Ankara with an investment of more than $1 billion, its president, Michael Evans, was cited as saying.
American Airlines group Inc (AAL): The union representing 15,000 American Airlines pilots has voiced concerns regarding the new cockpit protocols enforced by the airline, without adequate training.
General Motors Co (GM): The company said Friday it wants the U.S. Treasury to reconsider classification of GM's electric Cadillac Lyriq to allow it to qualify for federal tax credits. 
Macy's Inc (M): The company said on Friday it expects fourth-quarter sales to come in at the lower end of its forecast.
Salesforce Inc (CRM): The Cloud-based software firm is looking to cut costs by $3 billion to $5 billion, Chief Executive Marc Benioff told company insiders this week after announcing layoffs, Fortune reported, citing an audio recording of a meeting.
Upgrades and downgrades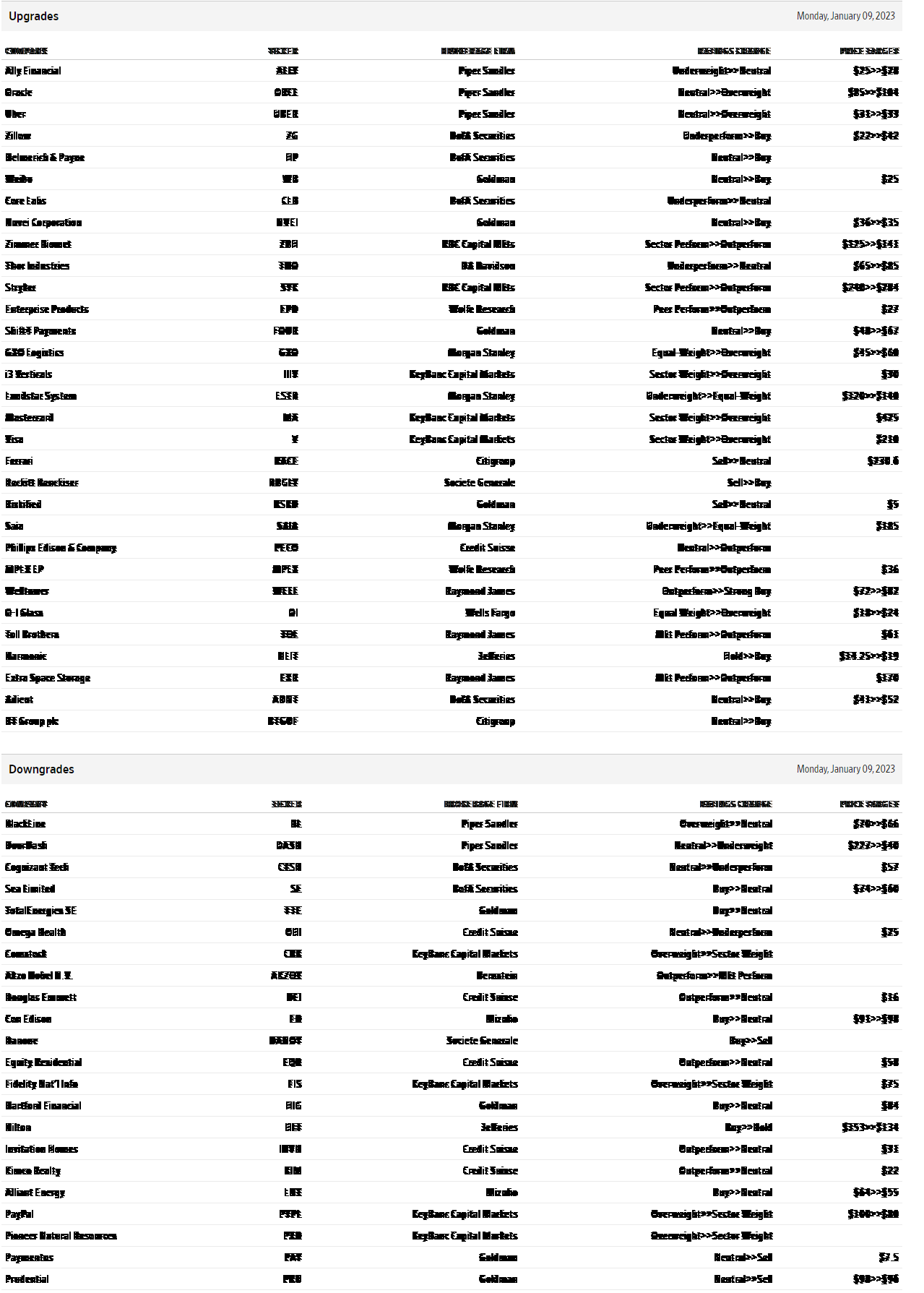 source: WSJ.com
Economic releases