Sunday Rundown recaps the most important developments from the day's action and examines their significance moving forward.
New era in NFC North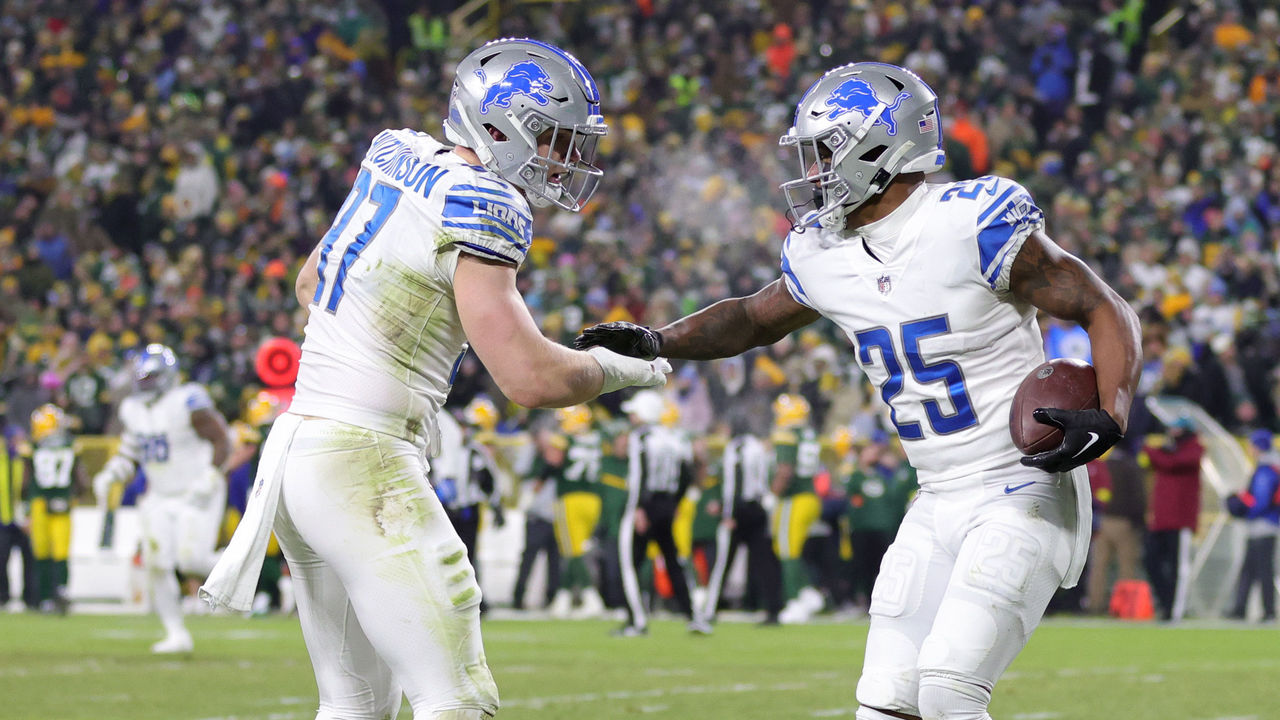 Biters of kneecaps, breakers of hearts.
The Packers managed to make things interesting down the stretch, running off four straight victories to set themselves up for a win-and-in scenario at home in Week 18 against Detroit. Naturally, most of us assumed they'd go ahead and finish the job. But this was no cupcake matchup – not anymore.
For the Lions to be the team to end the Packers' season, and perhaps the Aaron Rodgers era in Green Bay – all at Lambeau in January, no less – is the ultimate statement for what lies ahead in the NFC North. Would it have been cool to see Detroit go against the heavyweights in the playoffs? Of course. But in a strange way, it feels like this changing-of-the-guard moment means more than a brief trip to the postseason ever could.
There were bumps along the way – a disappointing Week 16 loss to the Panthers ultimately kept the Lions from storming all the way back from a 1-6 start to earn a wild-card spot. Record aside, though, it became clear over the second half of the season that this organization was building something special.
Dan Campbell and his coaching staff successfully laid the foundation. With an offseason to load up on defense to complement the dynamic group now in place on the offensive side, the rise to true contender status atop the NFC North could be swift.
And if it seems odd to dub Detroit the division's next powerhouse when the Vikings are on their way to the playoffs with 13 wins, consider how Minnesota fared when faced with a similar opportunity in Green Bay the previous week.
The Lions are the new top dog, and they're only getting started.
The end for Rodgers?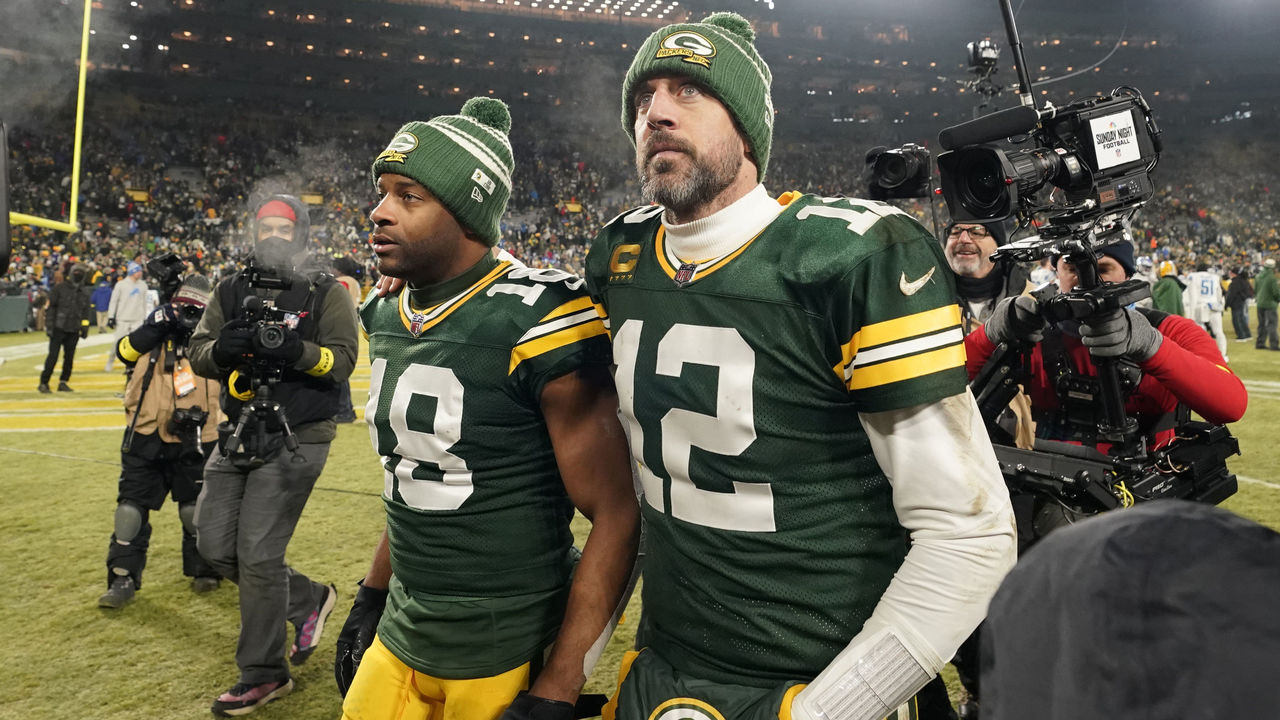 It's tough to read too much into these things, especially when you're talking about a quarterback who just loves to keep everyone guessing. But that sure felt like it could be Rodgers' last game in Green Bay, didn't it?
First came the midfield exchange with Jameson Williams after the season-ending loss. When the Lions' rookie receiver asked for his jersey, Rodgers declined. "I'm gonna hold onto this one," he said.
Shortly thereafter, the 39-year-old appeared to be taking in the Lambeau Field atmosphere as he walked off with longtime teammate and close friend Randall Cobb. His postgame comments all but confirmed that there's a decision to be made in the offseason ahead.
"It could be time to step away, but I could take some time and say, 'Hell no, man, I need to get back out there and go on another run,'" he said. "But I'll have to see what it feels like once I'm away from it."
Rodgers also suggested it's possible the Packers could be the ones opting to move on from him.
For the third time in as many years, it does seem like all options are on the table for Rodgers: retiring, returning to the Packers, or playing elsewhere. None of which could possibly be considered a surprise at this point – there's a reason this song and dance has become something of an annual tradition.
After each decision to return to Green Bay ended in disappointment, though, might this finally be the time one party, or both, decides it's time to move on? Retirement seems like the most likely scenario if he's not back with the Packers. But Rodgers and Tom Brady finding new teams in the same offseason would be one heck of a storyline.
Texans win but lose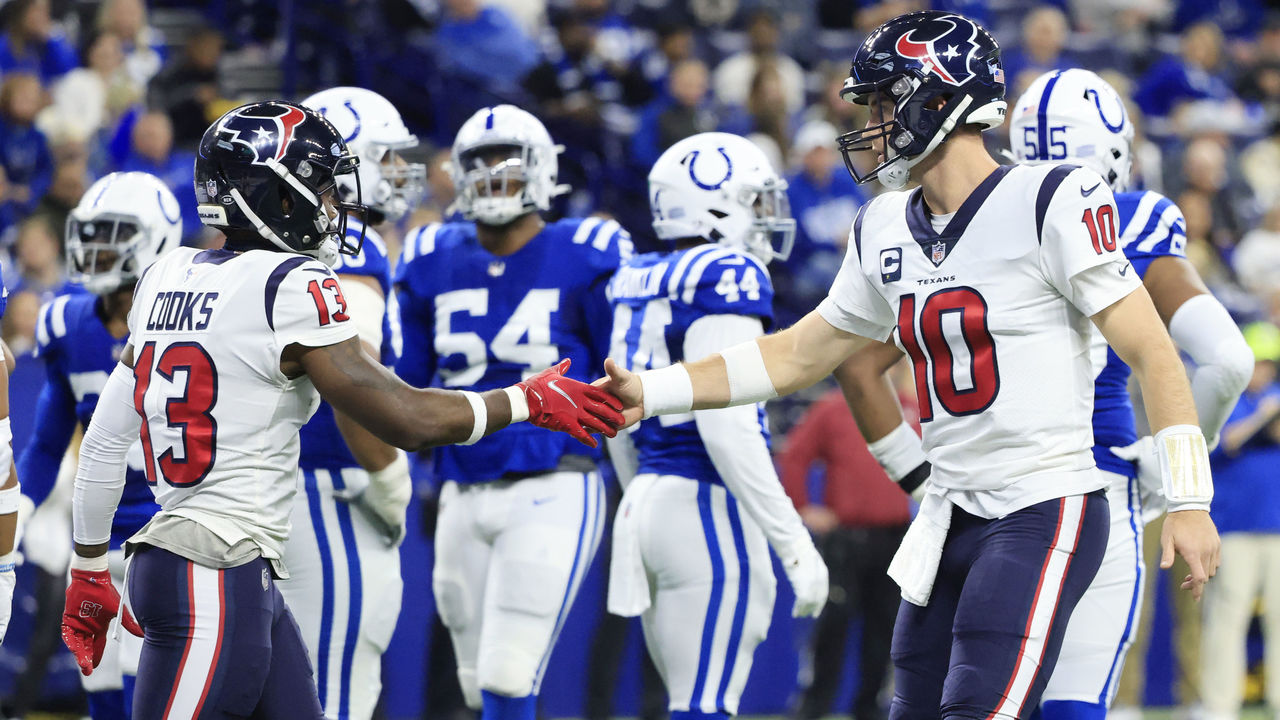 Let's get one thing straight: in-game tanking isn't a real thing. You're never going to see players or coaches – the people who directly impact the outcomes of games – actively trying to lose in the NFL. It's not their job to worry about draft position, especially when their place in the organization is anything but guaranteed year over year.
That's why the Texans were doing everything they could to beat the Colts in Sunday's season finale. Lovie Smith, who was evidently going to be fired after one year as head coach either way, would have no reason to do anything but win. The same goes for the players, whose status in the league depends on what they put on tape every week.
With all that said, it was still surreal to watch the Texans racing down for a late touchdown and the game-winning 2-point conversion to knock off the Colts and, in the process, lose the No. 1 overall pick they'd been on track to get all season long.
Picking at No. 2 in no way takes them out of the market for a top rookie quarterback. And for all we know, the one the Texans prefer between Bryce Young and C.J. Stroud, or even Will Levis, could end up falling into their laps. All's well that ends well, if that ends up being the case.
But how can you watch this unfold and not think back to the 2019 Jets? After starting the season 0-13, New York's back-to-back wins over a pair of playoff teams in the Rams and Browns saw the Jaguars end up with the No. 1 pick and the right to draft Trevor Lawrence. The Jets were happy with Zach Wilson at No. 2, but we know how that worked out – one team has a franchise player at quarterback, and the other has nothing.
The likely outcome here is that the Bears, who appear to have their long-term quarterback in Justin Fields, trade back with another QB-needy team in the top 10 for a franchise-changing haul of picks. Barring a Mitch Trubisky-like deal for the Texans to move up one spot instead, that'd mean Houston is stuck picking from whichever top signal-caller remains.
There's a real chance that a meaningless Week 18 win over the Colts will dramatically change the trajectory of the Texans franchise in a negative way. That's tough to swallow.
Why, Chargers?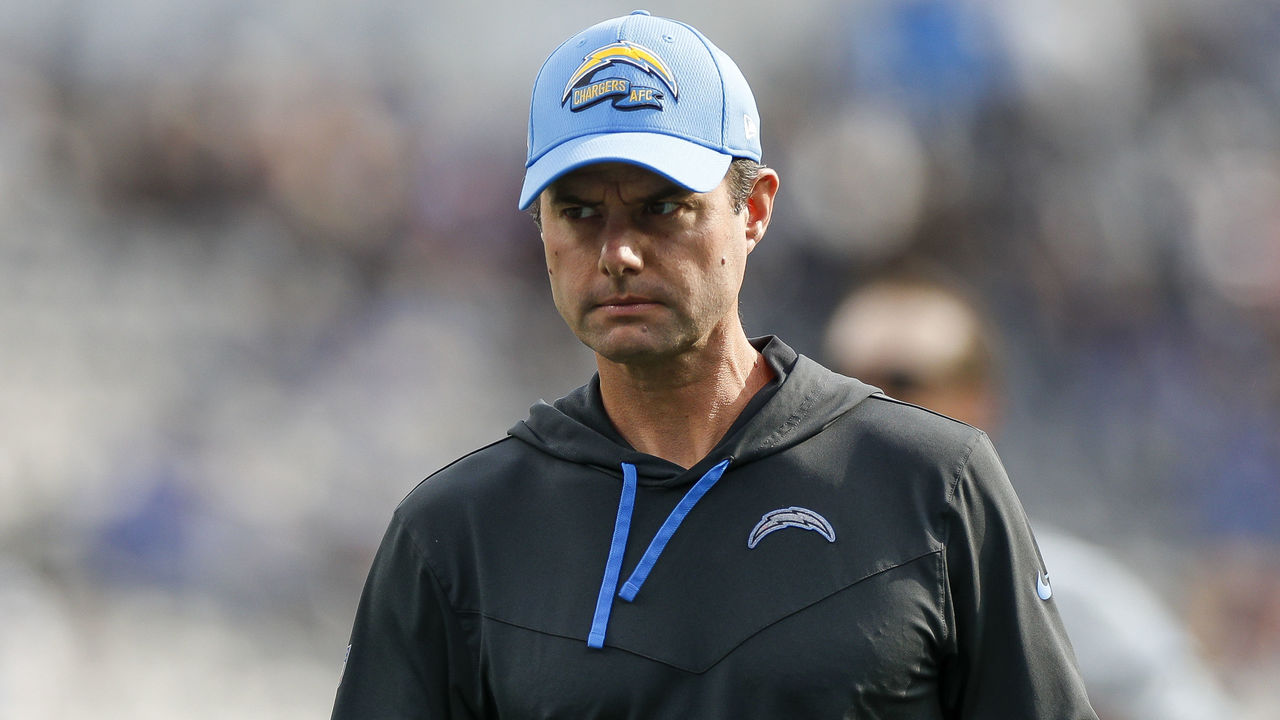 This space should've been dedicated to hyping up the Chargers as an AFC dark horse. The path was fairly clear: Justin Herbert can go shot for shot with any quarterback in the league, and L.A.'s second-half defensive improvement could theoretically pose some problems for the high-powered passing attacks of the Chiefs, Bills, and Bengals. If there was one underdog to bet on, this was it.
But that was before Sunday's game against the Broncos. Perhaps we should have known that this team, which has a penchant for making fools out of believers, would once again find a way to let us down. Talent only gets you so far if you've got a thing for getting in your own way.
The Ravens falling to the Bengals earlier in the day meant that the Chargers, no matter what happened in Denver, would be locked into the No. 5 seed. It was only fair to assume, then, that Los Angeles would respond by resting its key players. The 4-12 Broncos were even a considerable betting favorite heading into the weekend as a result.
But Brandon Staley stuck with his starters anyway. That may prove to be a costly decision.
Disaster struck in the first half when Mike Williams was carted to the locker room with a back injury. Staley didn't have an update on the status of his star receiver postgame, but the broadcast clip of him struggling to get off the cart in the tunnel wasn't exactly encouraging. Williams later had to be helped to the team bus and couldn't walk on his own, according to Daniel Popper of The Athletic.
Joey Bosa, who recently returned to action following a lengthy recovery from groin surgery, also left in the first half with an undisclosed injury.
Either player being forced to miss next week's wild-card game in Jacksonville would be a major loss for the Chargers. Williams is the only big-play threat among an otherwise underwhelming group of offensive playmakers, and Bosa remains one of the league's premier pass-rushers.
And despite running out their full starting lineup, the Chargers got beat by a Broncos team that's been a dumpster fire throughout the season. All for nothing.
Staley is going to have a lot of questions to answer if L.A. goes one-and-done.
Cowboys backing in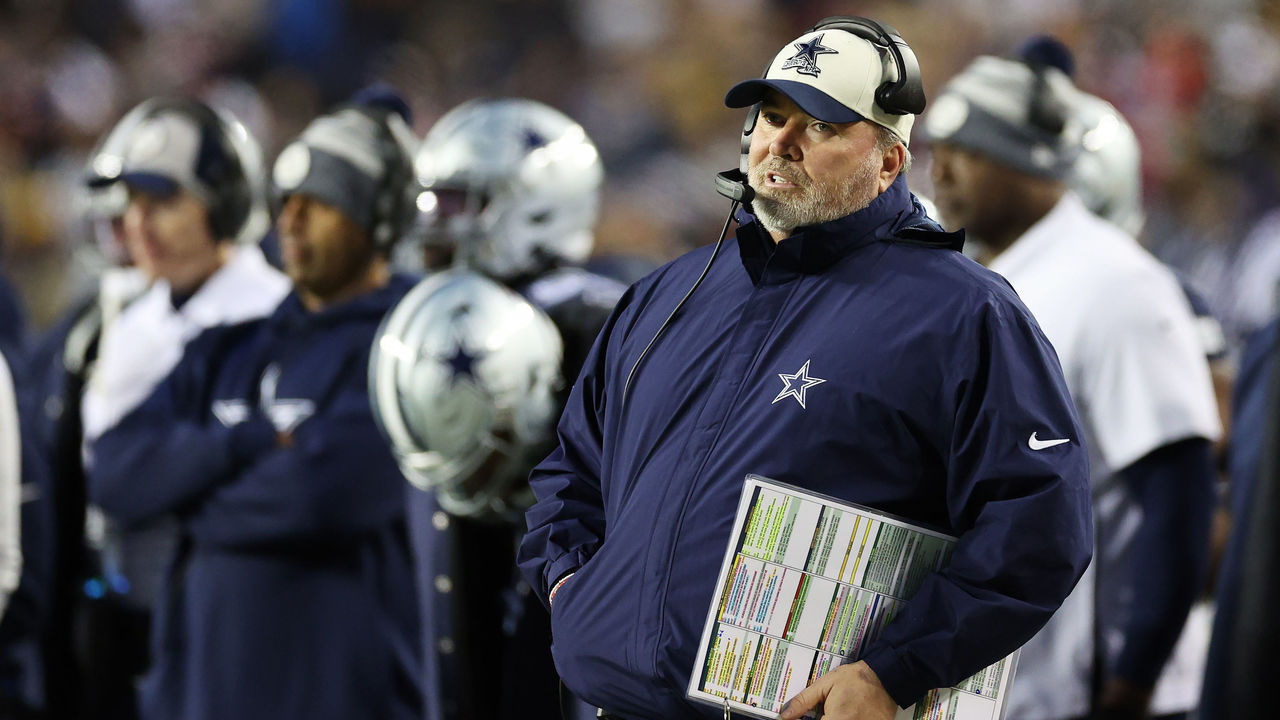 Speaking of teams making bizarre Week 18 decisions, how 'bout them Cowboys?
Dallas playing its starters in Sunday's meaningless game in Washington didn't have any sort of major injury consequences, so at least Mike McCarthy has that going for him. But not resting players only to get steamrolled by the Commanders and a rookie quarterback making his first career start is at least a little bit concerning.
The Cowboys won't shake their reputation for choking in the playoffs until they, well, don't choke in the playoffs. And while this game ultimately doesn't matter in that regard, it didn't do anything to help them go into the postseason on a high note, either.
As we've discussed several times throughout the year, there's no ceiling on what this team can achieve. The Cowboys have all the talent they could need on both sides of the ball, and the NFC doesn't exactly provide much resistance on the path to the Super Bowl. Nobody would be surprised if Dallas takes home the Lombardi Trophy at season's end.
But it's moments like these, both in terms of the decision-making from leadership and the disappointing on-field results, that make you wonder whether Dallas will ever get over the hump.
It doesn't help matters that, for all the Bucs' faults, it's going to be Brady standing on the other side of the field next week. Tampa Bay seems like a favorable first-round opponent on paper, but we all know better than to bet against Brady in the playoffs. And what do the Bucs have to lose?
All the pressure is on Dallas. Get by this first obstacle, and we could be looking at the kind of playoff run Jerry Jones has been chasing since the mid-90s. Come up short, and the Cowboys owner could pull the plug on McCarthy and pay up for Sean Payton.
Perhaps it's fitting that both feel equally possible.
Quick slants
Hines puts on a show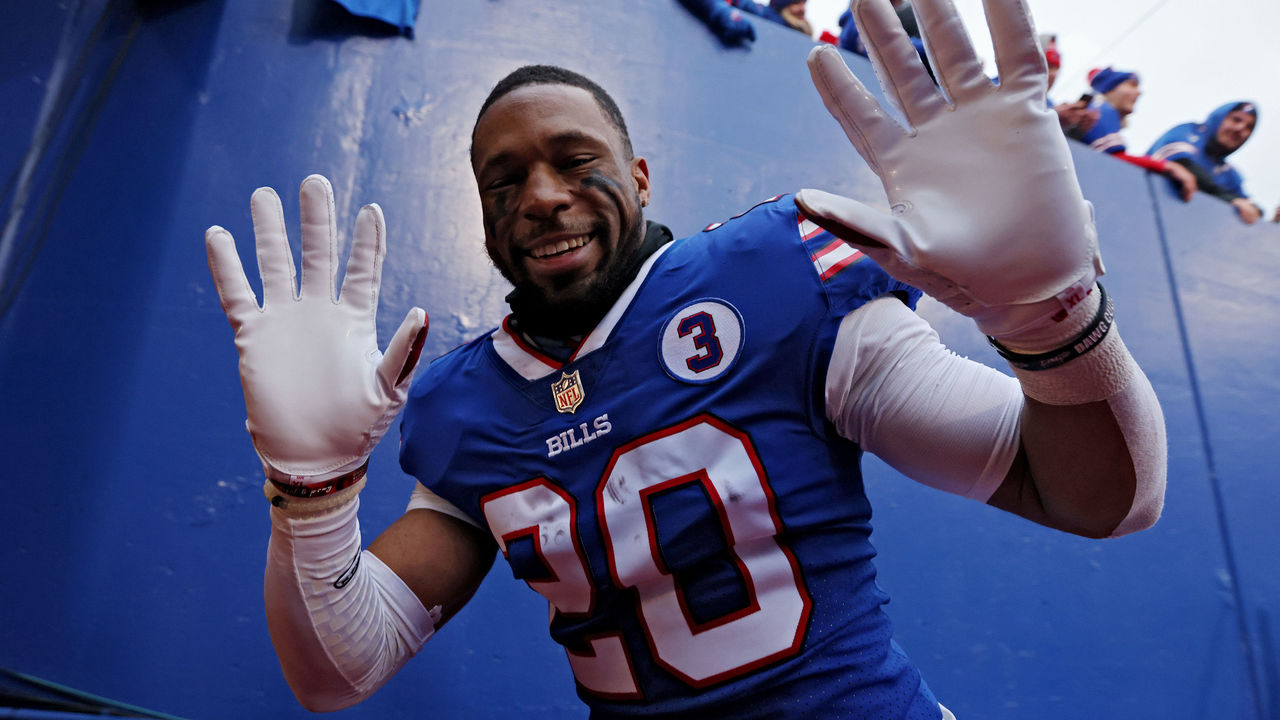 Nyheim Hines provided perhaps the best moment of the season when he returned the opening kickoff for a touchdown in Buffalo's first game since Damar Hamlin's cardiac arrest. But he wasn't done there. The trade deadline acquisition doubled up later in the game, becoming the first player since Leon Washington in 2010 to record two kick-return scores in a single game. Hines' standout performance was ultimately the difference in a huge win over the Patriots, which both secured the No. 2 seed for the Bills and eliminated their division rivals. That's a hell of a way to win over your new team and its rabid fan base.
Respect for Seahawks
Nobody had the Seahawks in the postseason following the offseason trade of Russell Wilson, and Pete Carroll's confidence in his group seemed like little more than false bravado from a coach who's never really experienced failure. As we came to find out, though, there was a reason for Carroll's belief. And, perhaps more importantly, there's a reason he's never really experienced failure. Carroll's ability to coach up a young group and Geno Smith making the most of his long-awaited opportunity as a starter has made Seattle one of the best stories of the year. Its trip to the playoffs may be short, as a first-round matchup with the 49ers is about as tough as it gets, but that doesn't take anything away from the accomplishment. Carroll's case for Coach of the Year honors is as strong as anyone's. There'll be no more doubting the Seahawks for as long as he's leading the way.
Concern for Hurts
Jalen Hurts getting back on the field three weeks after suffering an injury to his throwing shoulder was an extremely positive sign, but it's clear that he's nowhere near full strength. The Eagles quarterback completed 20-of-35 passes for 229 yards, no touchdowns, and one interception against the Giants' backups in a closer-than-expected win. Head coach Nick Sirianni admitted postgame that his quarterback was "hurting bad" – not exactly the most reassuring words for Eagles fans. Philly getting the win, ugly as it may have been, gives Hurts a bye week to rest up some more. Whether he can get healthy enough to even approach the level at which he played prior to the injury will likely decide the Eagles' season.
Tomlin's historic streak
We've touched on this in recent weeks, but it's worth revisiting now that the Steelers have officially registered a winning season. That makes it 16 consecutive years without a losing season for Mike Tomlin as the head coach in Pittsburgh. The Steelers have long been known for stability, but this kind of run is truly incredible. And for Tomlin to keep it going with this Steelers roster, which nobody even expected to be in the playoff mix, let alone fighting for a spot on the last day of the season, might be his best work yet. Pittsburgh is in great hands for as long as its head coach sticks around to lead his team in a way that so few in the history of the game have done.
Bears set for megadeal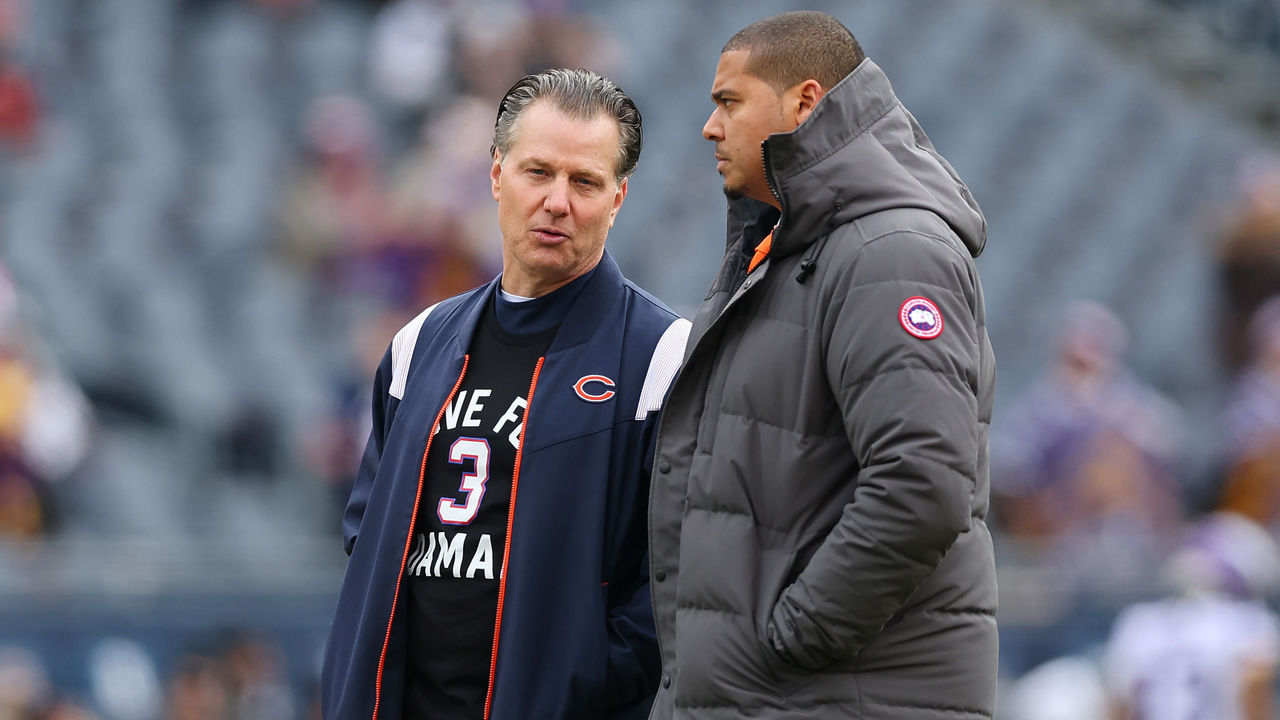 The Bears ending up with the No. 1 pick creates a fascinating situation atop the draft in April. It feels like a foregone conclusion that, for the first time since 2016, the top selection will be traded. Justin Fields establishing himself as Chicago's quarterback of the future means that the front office can pivot to using any and all resources to improve the team around him, and the Bears need as many as they can get. Not only because the roster is in such rough shape, but also because of a particularly bizarre midseason move that's severely impacted their draft capital.
Claypool deal a bust
That trade, of course, is the Chase Claypool deal. Now that we've had a half-season to evaluate the Bears' new receiver, it's fair to ask what in the world they were thinking. Chicago sending its own second-rounder to Pittsburgh, rather than the one acquired from Baltimore in the Roquan Smith trade, was a curious move from the start. But the Bears finishing at the bottom of the league makes the decision even more costly, as they'll have parted with the No. 32 overall pick. Claypool started in three of his seven appearances after landing in Chicago, recording 14 receptions for 140 yards and no touchdowns. While they had the right idea of getting aggressive for offensive weapons, deadline deals don't get much worse than that.
Watson fails to impress
The Browns can tell themselves all they want that Deshaun Watson's play has been a matter of him trying to shake off the rust. Surely they would've liked to see something, anything, to justify their gamble. To this point, it's safe to say they haven't. There was no room for failure when the Browns made the controversial move to surrender multiple first-round picks and hand Watson a fully guaranteed $230-million deal. After a six-game stretch in which their new quarterback topped 200 yards only twice, throwing for seven touchdowns and five interceptions, there has to be some concern that the Watson trade is going to be a disaster for Cleveland.
Under-the-radar superstar
Christian Wilkins might be the best defensive player that most people don't know about. The Dolphins defensive tackle has been so unbelievably dominant against the run this year that he finished the regular season with 98 tackles, a record for defensive linemen. Those are linebacker numbers for a 310-pounder who has to shed at least one, and often two, opposing linemen before making plays on the ball carrier. For reference: J.J. Watt, a prolific tackler among defensive linemen, had a career-high of 82 in 2012. Wilkins should be in line for a contract extension before playing out his fifth-year option next season, and his ridiculous performance in 2022 should help him push for $20 million per year.
Stat of the week