A new year is upon us, and the beginning of the 2023 Sales marketplace is again brimming with anticipation to see what holds the Thoroughbred Industry captive. Racetracks around America have answered the owners' and breeders' concerns with restructured purses and additional race cards. In contrast, the foal crop has continued to shrink, setting 2023 up for a continued sellers' market.
The Keeneland January Horses of All Ages Sale, the first public auction in 2023, will offer 1,614 cataloged horses for consideration, including short yearlings by established and first-crop sires, broodmares in foal, racing or broodmare prospects, and stallion or racing prospects.
"The January Sale is always a sale that I look forward to," Keeneland's vice president of sales Tony Lacy said. "I think everybody has refreshed and re-energized after the holidays. Sometimes in November, we're all a little jaded after a long year, and I think this comes into where it's a very manageable sale with just over 1,600 horses. It's a good healthy number, and we've got strong domestic interest, and the weather looks like it will play to our advantage this year.
"We are coming off a good year last year, a very healthy trading environment, with demand for quality stock. I think we've got to be optimistic on horses with perceived quality and value, and they will be well represented."
This year, same as last year, the sale will have four sessions beginning each day at 10 a.m. ET Jan. 9-Jan. 12 out of two books.
Selling from Book 1 Jan 9 includes Hips 1-420F, followed by Hips 421- 840F Jan. 10. Selling from Book 2 includes Hips 841-1230E Jan. 11, followed by Hips 1231-1601 Jan. 12. Supplemental catalog pages can be found outside the sales office in the pavilion.
"The quality in the main catalog is due acknowledgment, with the likes of Katie's Keepsake  (Hip 55 with Nursery Place), a half sister to Breeders' Cup Filly and Mare Sprint (G1) winner Goodnight Olive , here at Keeneland," Cormac Breathnach, director of sales operations at Keeneland, said. "Katie's Keepsake is offered in foal to Ghostzapper  , which is a really exciting offering in the main body of the catalog. Domain Expertise  (Hip 382 with ELiTE) is a grade 3 stakes-winning filly for Klaravich Stables; she is an outstanding filly. Avenue de France  (Hip 736 with Nicky Drion Thoroughbreds) won the John C. Mabee Stakes (G2T) at the end of last year."
The mild winter weather has been in the public's favor, as opposed to 2022, when Lexington was put in a holding pattern after six inches of snow fell. As buyers shop the catalogs, footfall has steadily been picking up on the sales grounds.
"We have an exciting group of horses overall," Zach Madden of Buckland Sales said. "Saturday was very busy, which is hopefully a good sign. We have a good solid group of short yearlings on offer and some exciting mares off the track and in foal. From top to bottom, there is something for everyone offered at Buckland Sales."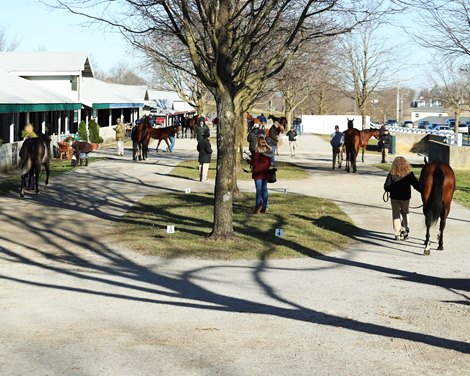 Buyers decent on the sales grounds ahead of the Keeneland January Sale
The initial catalog of 1,509 horses has expanded to include, in what has become standard procedure, the addition of 105 supplemental entries.
"With January being a short sale, we only make one pass through the barns, so we have a bit more freedom to accommodate extra horses after the entry deadline," said Breathnach. "We get quite a few horses who are transitioned from the November catalog into January or are entered during the first week of the November Sale." 
"Supplemental entries include Ack Naughty  (Hip 420B with ELiTE), a 10-year-old mare whose second foal, Practical Move , won the Los Alamitos Futurity (G2); she will be very popular and is offered in foal to Upstart  . Madone  (Hip 840D with Eaton Sales), Kaleem Shah's multiple graded stakes-winning filly, is another terrific addition; she's a gorgeous filly by Vancouver . Another late addition that we are proud to add is Ancient Peace  (Hip 840E with Indian Creek). She's a Sam-Son Farm bred War Front   filly that Mike Ryan owns; she just won Dec. 30 before shipping here impressively by 4 1/4 lengths on the turf at Santa Anita."
The catalog showcases short yearlings by new and established sires, offering something for everyone at all price points. Whether for pinhooking or retaining to race, there are plenty of attractive catalog pages to go under the hammer over the four sessions. 
"There is always a strong demand for the young stock," Lacy said. "Many of our pinhooking clients and shorter-term investors look at the short yearlings with a lot of optimism. There's a huge amount of quality in these young stallions retiring and going to stud this year. A lot of the pinhookers got shut out in November; they're trying to restock for the yearling sales season later this year. And this is one of the last hitching posts; this sale has always been a very lucrative place to sell good short yearlings, mares, and foals by the young stallions. Some of those young stallions may have gotten overshadowed in November, but they certainly bring a lot of quality to the table. And again, the appeal of the young stallions is always there."
During the 2022 four selling sessions, Keeneland reported 1,045 horses were sold of the 1,256 through the ring for gross receipts of $47,581,100. An average price of $45,532 and a median of $20,000 was recorded, along with 211 horses failing to meet their reserve, representing an RNA rate of 16.8%.
Last year's sale was topped after Three Chimneys went to $750,000 for the 2-year-old Princesse Lele to buy out partner Hill' n' Dale, who consigned the filly by Quality Road   out of its grade 1-winning millionaire mare Carina Mia .
The four days of selling concluded in 2022 with Larry Best's OXO Equine securing six individuals to the tune of $1,490,000 at an average price of $248,333 to be the sale's leading buyer by gross.
"I think this sale is always exciting because you get a little bit of everything. You get some fillies coming off the track that maybe weren't ready to retire in November; some other horses that people want to move on, and you still have race ability left for the new buyer," Mark Taylor, CEO of the Taylor Made Sales Agency, said. "You get a lot of foals that people have decided to put in or maybe need a little more time. So you get a little bit of everything."
Leading consignor Taylor Made Sales Agency sold 126 of its 152 horses on offer for a total of $5,814,800 to be the leading consignor by gross. Those horses sold for an average of $46,149. 
Mark Taylor at the sale
Taylor Made Sales has been the leading consignor of the Keeneland January Sale since 2013 except for 2021 when Lane's End claimed top honors.
Taylor added: "We have something for everybody, and we think it's going to be more of the same. Quality will sell well, and we expect a strong market throughout. We are looking forward to the next week and getting 2023 kicked off the right way."
As of Jan. 8, Keeneland reported 316 horses have been withdrawn from the sale.