The covers for the Sydney Cricket Ground have come under fire after an embarrassing attempt to capitalise on the rain backfired when water leaked onto the square.
The Daily Telegraph reported new NRMA sponsored wet weather covers that caused the leak were eventually banished on day four after day three's washout.
SCG groundstaff were forced to return to their usual blank set of covers after the set ironically emblazoned with NRMA Insurance failed in their duty to keep the pitch and square dry.
Watch Australia v South Africa. Every test match live and ad-break in play on Kayo. New to Kayo? Start your free trial now >
Shepherd: No chance SCG Test moved | 03:44
Cricket Australia had asked the SCG groundstaff to use the new covers carrying the name of one of their partners, NRMA and the tag line on the pitch cover ironically read, help.
The damage was not disastrous and did not delay play, but reportedly the seams around the logo split in them, causing water to seep in under the covers and make for extra work for groundstaff.
SCG staff used extra hair dryers in a frantic bid to dry out the run-ups and the wicket block surrounding the pitch, before play eventually started at 1.45pm on day four.
Cricket Australia and Venues NSW issued a joint-statement to explain the covers leak.
"Ground staff and the cricket operations team have confirmed there were no delays in play due to a small leak in the covers," the statement read.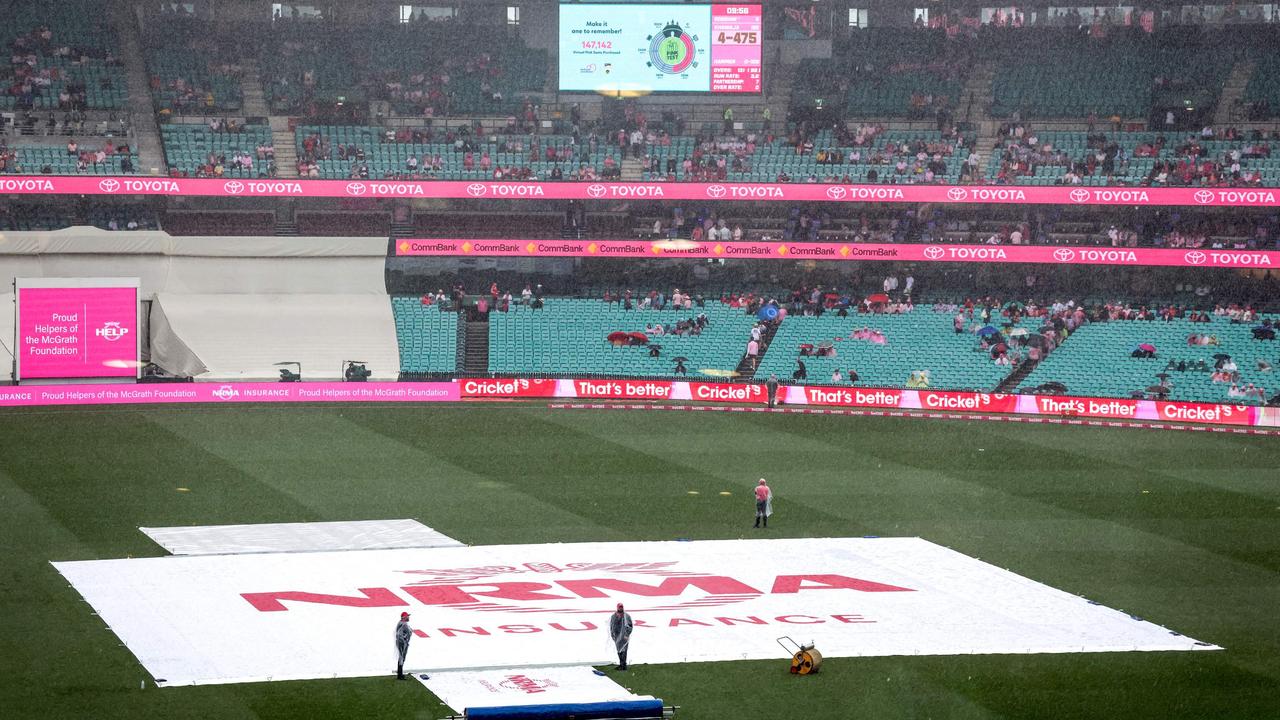 "The delay to play today was caused by a small section of sodden turf off the wicket square where water had accumulated overnight. The SCG had 56mm of rain overnight and this morning.
"NRMA Insurance had no involvement in the construction of the covers or the requirement for them to be used for this match and ground staff had no issue with the new set of covers."
There was a window of time on Saturday morning when there was an opportunity to get back on the field, but there wasn't enough time to get the pitch area prepared before another downfall arrived.
Groundstaff were frustrated they couldn't use their own covers, which they are familiar with, while the final inspection at lunch time meant turf had to be shifted around to fix the run-ups.
Isu Guha led a chorus of commentators calling for improved covers to cover the entire wicket block, and called for a re-examination of the protective equipment in light of the embarrassing incident.
"You would think they could invest in some better covers," Guha said on Fox.
"You have the hover covers at Lord's that come off really quickly and then at The Oval it literally covers the whole of the ground across the square for moments like this where bowlers are looking around at the pitch ends where it can be a bit dangerous.
"I'm pretty staggered that it's not better equipped."