Opportunity Overview
I covered South Korea's stock market and economy several times in 2022, and think this is one of the top emerging markets to consider and that South Korea should trade at a premium to MSCI Emerging Markets. South Korea has a plethora of high-quality companies trading at a low valuation, and the economy should still do pretty well during 2023. The latest growth projections for South Korea in 2023 are 1.6%.
While the broader market is trading slightly below book value, there is an even deeper value found in South Korean banks, as all of these banks trade at a massive PE/PB discount to the index. Banks have underperformed the index since Covid19 and could break out and outperform if investors flock to these banks because of the low valuation and higher dividend yield.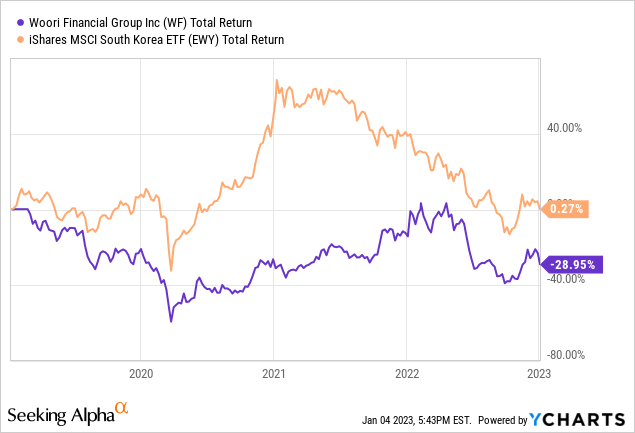 Woori Bank (NYSE:WF) has significantly underperformed in the iShares MSCI South Korea ETF (EWY) and is attractive based on its valuation and above-average dividend yield. I think that Woori Bank has the potential to outperform the index during the next decade.
Company Overview
Woori Bank is one of South Korea's largest banks, as it has a 12% market share in the loan market and a 14% market share in deposits. It is currently the 4th largest bank in South Korea in terms of assets. The bank is relatively easy to analyze, as the majority of its net income comes from banking, while areas like asset management represent a small % of its operations.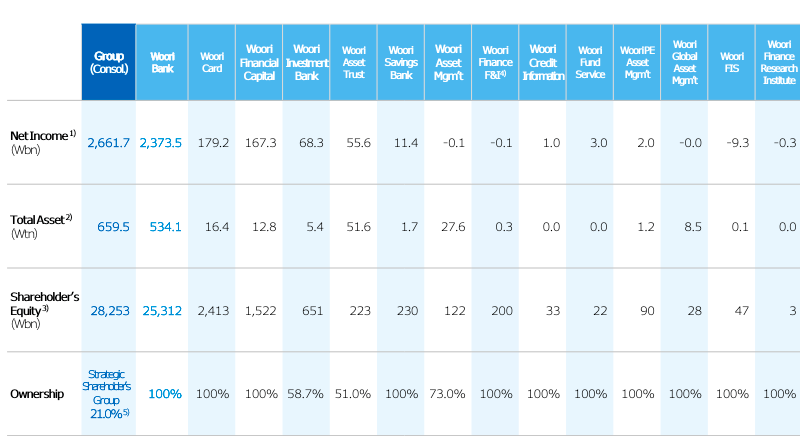 Over half of its loan book (301mn won in Q3 2022) is in corporate loans, while the rest (44%) includes retail loans. Woori bank has consistently kept its NPLs below 0.4% during the past four quarters. Its corporate loan portfolio has increased 11% YTD, while its retail loan portfolio fell by 3% YTD.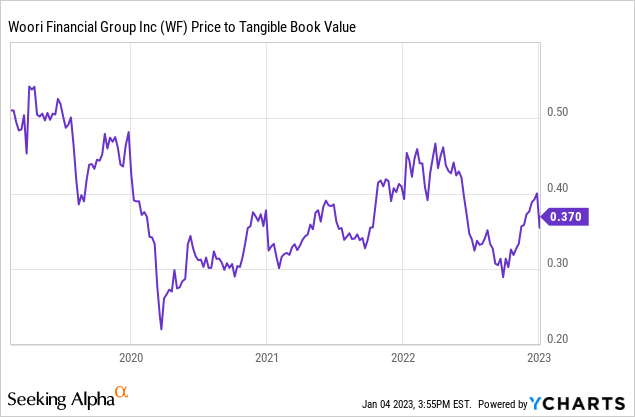 Shares of Woori Bank are extremely cheap, and although it is unlikely the bank will ever trade above book value, it is still trading at a historical discount. Banks in South Korea are also relatively appealing, as NPLs only peaked at around 1.3% this decade.
Recent Results
The bank's recent results were very favorable, and its long-term outlook still looks good. Woori Bank has historically traded at a very low valuation, but the bank is hardly a value trap. The bank's Q3 2022 net income rose by 21.1% YoY and its ROE was 13.2%. The bank was also able to keep its NPLs low at 0.29% during this quarter.

Moreover, Woori Bank's coverage ratio has more than doubled since FY 2017.
Superior Dividend Income
While South Korea's stock market only offers a dividend yield of 2.3%, Woori Bank has historically offered a much higher dividend yield and mainly kept its dividend payout ratio at or above 20%. The current dividend yield is above its historical average.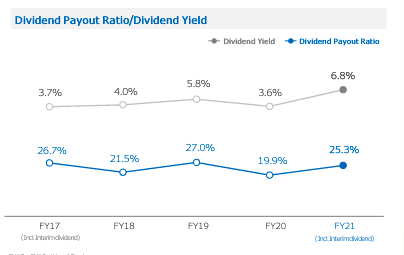 Considering that Woori Bank's share price has fallen near its 2015 lows, and could nearly double if sentiment improves this decade, I think it's a good plan to enjoy the dividend yield while holding. If investors see that this dividend is sustainable, then the share price could increase substantially, allowing the bank to trade at 0.5x book or higher.
Customer Growth
South Korea's banked population is currently approaching 99%, compared to the global average of 66%. Although MSCI classifies South Korea as an emerging market, the economy does not have emerging market characteristics in this sense (i.e. high unbanked population).
| | |
| --- | --- |
| Country | Banked Population |
| South Korea | 98.7% |
| Brazil | |
| Thailand | |
| Malaysia | |
Source: World Economy/Statista/Kapron Asia
However, Woori Bank has still been able to grow its customer base, even though most people in South Korea have a bank account and are not underserved by financial institutions.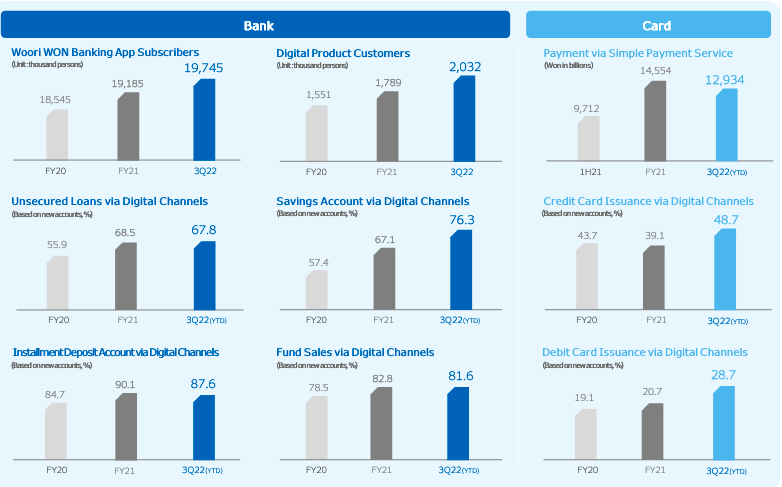 Emerging Market Benchmarks
Although the low valuation found in banks in South Korea is not a new phenomenon, there is still a strong margin of safety associated with choosing these banks due to their stability and moderate growth. Woori Bank even trades at a discount to some emerging market banks, which are all listed below.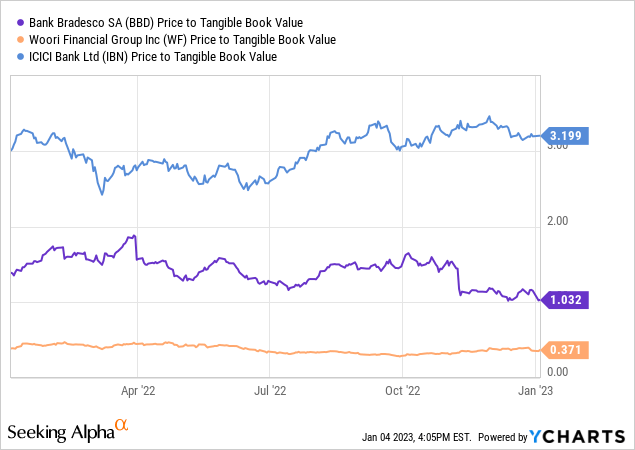 As previously mentioned, I am not counting on significant multiple expansion, but think it is realistic to be optimistic about the company's ability to pay a solid dividend and eventually trade at 0.5x book. Based on historical price movement since 2020, I think the biggest risk for this stock is a 40% drawdown, which is not terrible considering the current yield, upside, and valuation.
South Korea Comparison
Korean banks have historically traded below book value, and most trade at around a 50+% discount to the index. Woori Bank has not traded at a premium to other of its competitors, including Shinhan Financial Group (SHG) and KB Financial Group (KB), so its current discount is not as meaningful.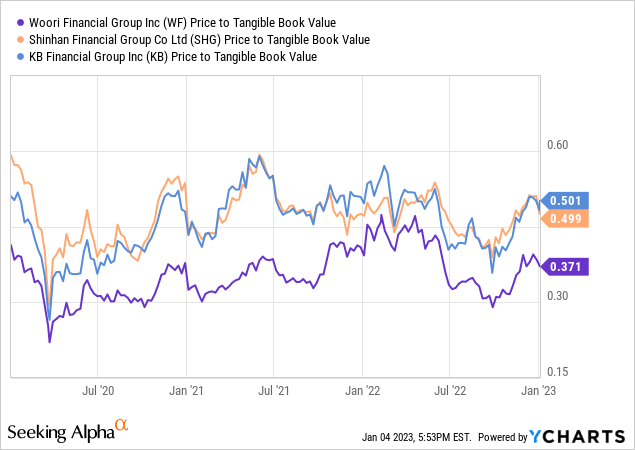 Woori Bank was also under investigation over suspicious wire transfers in 2022, which has hurt sentiment for the stock. While I am not too concerned about the company's outlook, I may take a more diversified approach and invest in a basket of South Korean banks instead.
South Korea Macro & Alternatives
South Korea primarily exports to China (circa 25% of total exports) and other destinations like the United States, Vietnam, Hong Kong, and Japan.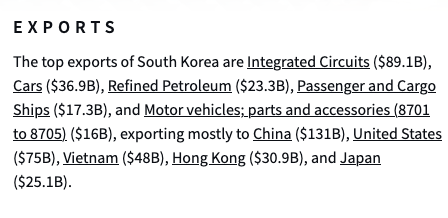 South Korea also has a very stable export-oriented growth narrative, as it has been very successful in electronics exports, including manufacturing components for low-cost assembling countries.
Moving forward, South Korea looks like a more stable long-term bet, and this country will likely be one of my largest emerging market positions. One of my other South Korean positions includes the closed-end fund, the Korea Fund (KF). This fund has begun to catch up to the performance of the iShares MSCI South Korea ETF (EWY).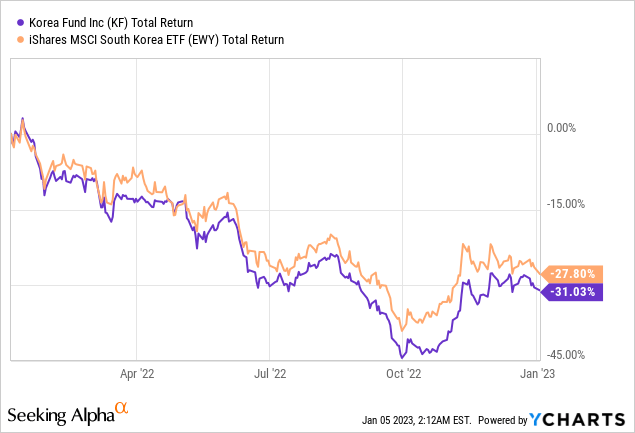 One of the benefits of this fund is that it underperforms during bad periods (i.e. Q4 2022) solely because the fund trades at a larger discount to NAV. At the moment, the fund trades at a 14% discount to NAV. I will likely accumulate Woori Bank and other Korean banks this year.