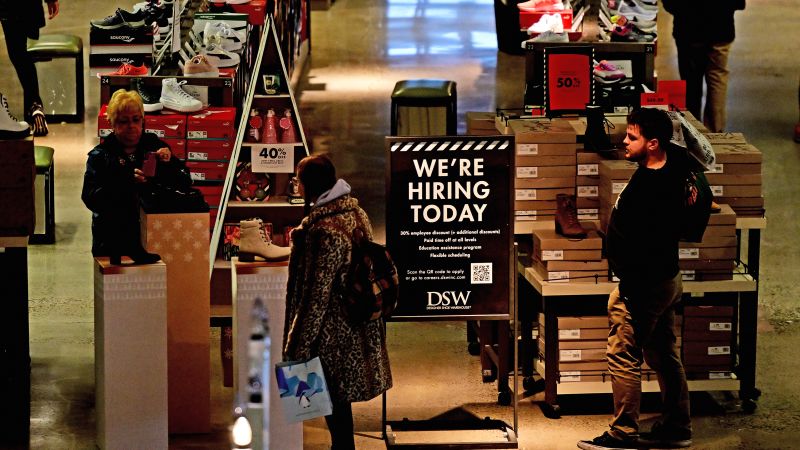 The US economy added 223,000 jobs in December, according to the monthly employment report from the Bureau of Labor Statistics, capping a year of extraordinary job growth and marking the second-best year for the labor market in records that go back to 1939.
The unemployment rate fell back to a record low of 3.5% from a revised 3.6% in November.
Economists were expecting 200,000 job gains for the last month of the year, according to Refinitiv. December's job total is lower than the downwardly revised 256,000 jobs added in November.
Including last month's gains, which are subject to revision, the economy added about 4.5 million jobs in 2022. That's the second-highest-ever total, after the 6.7 million jobs added in 2021 — a boomerang from 2020's 9.3 million job losses.
What the Fed wants to see

The labor market slowed in 2022, compared to the previous year's tear. December's jobs total represents the lowest monthly gains in two years.
Those latest gains come following months of jumbo interest rate increases from the Federal Reserve in its attempt to cool off the economy after inflation last year hit its highest level since the 1980s. Those efforts have, so far, remained mostly elusive.
That means the Fed is entering 2023 looking for a considerably softer and looser labor market — notably, increased labor participation, a better alignment of job seekers to open positions, and lower levels of wage growth.
"This is about the best report one could hope for, given a still very hot US labor market," said Joe Brusuelas, principal and chief economist for RSM US.
Wall Street responded positively to Friday's jobs data, with the Dow rising by almost 500 points by mid-morning — mostly a reaction to the slower pace of wage growth. Average hourly earnings increased 0.3% over the previous month and 4.6% annually. That's compared to 0.4% month-on-month growth in November and 4.8% annual growth.
Participation inches up

The December report showed that the labor force participation rate, an estimation of the active workforce and people looking for work, ticked up to 62.3% from 62.2%.
Labor force participation rates have been on a decline — largely due to demographic changes and aging Baby Boomers — since hitting a high of 67.3% in early 2000, and had fallen to 63.3% in the month before the onset of the pandemic. The participation rate has not returned to pre-pandemic levels, vexing economists and the Fed, while also contributing to an imbalance of worker supply and demand.
"The labor market is moving in the right direction for the Federal Reserve, according to the December employment report, but is not there yet," Gus Faucher, senior economist for PNC Financial services said in a statement. "Job growth is slowing to a more sustainable pace, and wage growth is softening as demand in the job market slackens somewhat."
However, with job growth well above pre-pandemic levels, when job gains averaged 164,000 in 2019, and the unemployment rate returning to a 50-year low, there is little indication that there will be enough of a boost in the labor force to help cool off the job market, he said.
Some of the largest monthly gains were in industries such as leisure and hospitality, health care, and accommodation and food services, which all were hit hard during the pandemic. There were also notable monthly job losses in technology and interest-rate-sensitive sectors that surged during the pandemic and are now rebalancing as consumers shift spending toward services.
Industries such as information, finance and professional and business services, shed jobs between November and December.
The losses seen in areas such as professional and business services are likely an effect of the waves of mass layoffs hitting the tech industry, said Ken Kim, a senior economist at KPMG.
"We are seeing a little bit of spread to other areas," he said.
Resilient labor market

In addition to Friday's strong jobs numbers, several other pieces of jobs data released this week continue to reflect a healthy labor market. Wednesday's Job Openings and Labor Turnover Survey (JOLTS) report showed that the number of available jobs remained steady at 10.5 million in November. It also showed that quits, layoffs and hires didn't really show any major signs of cooling that month.
ADP's private-sector employment report on Thursday also showed a robust labor market, with 235,000 jobs added in the private sector during December, well exceeding expectations of 150,000.
And Thursday's weekly jobless claims fell by 21,000 to 204,000 for the week ending November 26, while continuing claims decreased to 1.69 million from 1.72 million to 1.61 million.
—CNN's Matt Egan contributed to this report.