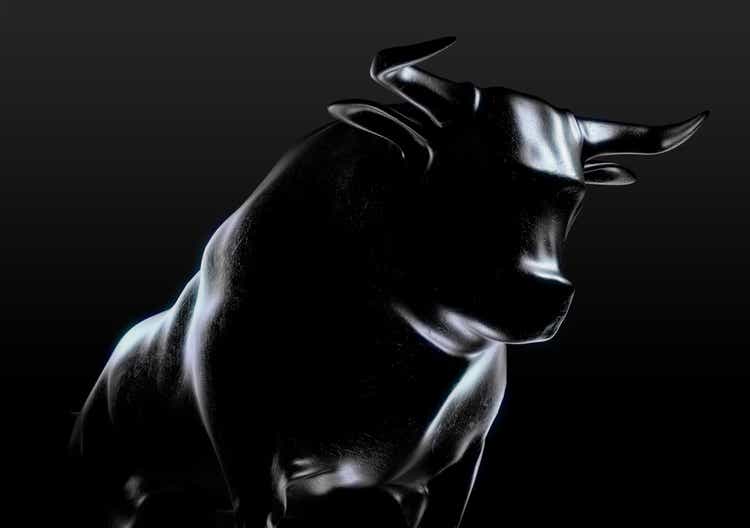 Franchise Group (NASDAQ:FRG) consists of health retailer The Vitamin Shoppe [TVS]; rent-to-own retailer Buddy's; warehouse-style appliance, mattress, and furniture retailer American Freight [AF]; pet store operator Pet Supplies Plus [PSP]; educational services company Sylvan Learning; and furniture retailer W.S. Badcock. Current management took the reins in 2019, and transformed the company from a troubled tax preparer into a growing, cash flowing retail powerhouse, through a series of spectacular acquisitions. EBITDA per share is up 3x as a result. The company has a policy of returning 25% of EBITDA to shareholders as dividends, and the dividend currently stands at $2.50. FRG is run by its excellent founder and CEO, Brian Kahn. Brian comes from a private equity background, and owns about 11M shares. He is well aligned with shareholders.
The stock is absurdly underpriced, and will return perhaps 7x over the next 3 years, as I discuss below. It would be perfectly reasonable to simply buy shares and wait it out, and indeed I own shares myself. But in addition to being a great investment, FRG also offers what I think is a very interesting short term trading opportunity. Read on and see if you agree!
How we got here: two guidance cuts in 2022
FRG has been on an absolute tear since I first wrote about it, up from $6 and change, and having paid almost as much in dividends – roughly $5 – as the initial purchase price for one who bought at that time. Management has deftly grown the company dramatically since taking over, and even in the disappointing 2022, EBITDA will be ~$350M, up from $338M in the "good" year of 2021. And the share count will be well down on the year, likely by more than 10%. It's an impressive record of success. But…
They guided to $450M of EBITDA for 2022 initially, and then had to cut to $390M on the Q2 earnings release, and then they had to cut again, this time to $350M, on the Q3 earnings release! Maybe the macro situation was hitting them harder than anyone could have expected, but on top of that, the guidance cut seemed to catch management off guard. Credibility was impaired for a management team that had had an absolutely stellar track record up to that point.
This was a bad look, and shorts pounced on it, and longs fled, and the stock price was cut over the course of 2022. Ending, in fact, with the stock yielding an incredible 11% dividend yield, and lots of speculation about – let's face it – not whether they would cut the dividend, but by how much. Would it be a large cut, or a total cut?
So that's how we got here. Two guidance cuts, speculation on a potential dividend cut or elimination, and the share price down more than 50% in a year.
FRG buying back shares
For a company supposedly in trouble, FRG sure has bought back a lot of shares. And for a company that might be forced to cut their dividend, that's… unusual. But they bought back 2.2M shares in Q3, and – in my view – have almost certainly bought back a similar or larger number of shares in Q4. Here's why I think this is true.
First, I think management believed a big part of the reason the share price was down was because investors were expecting a dividend cut. Since the dividend was not going to be cut – we know that for sure now – it would be natural to assume that the stock would price much higher if it were maintained instead. And if one believed that, then any delay in the dividend announcement would allow more time for a buyback at low prices. So, was the dividend announcement delayed?
It sure was. The share repurchase window ended at the close of market on Friday, 12/16. That was the last day FRG was able to buy their own shares, and the very next business day, 12/19, they announced that the dividend would be maintained at $2.50 for 2023. For comparison, last year FRG announced the dividend on 12/7, and the year before they announced it on 12/3. So the dividend announcement was delayed until the very next day after they would have to stop buying shares anyway.
Second, management has described their view on repurchases in conversations with investors. You can check with IR if you want to hear it for yourself. They point out that their debt only had a 9% yield, and its tax deductible, so that's 6.75% cash savings after tax if they repay debt. But – they emphasize this point – at $25, buying back stock results in a 10% cash savings. So it's actually more de-levering to buy back shares than to pay down debt. That's how they are thinking about it, and that's how they are explaining it to shareholders and lenders. Why have this justification handy if they are not repurchasing shares?
Third, the way the stock traded during the Q3 buying window, high volume as soon as the buying window opened, numerous large block transactions. This is indicative of a big buyback.
And fourth, my own analysis shows plenty of room for a buyback. They are not close to their leverage covenants, and can certainly spend $50M to $100M to buy back 2-4M shares, and maintain the dividend, under reasonable scenarios. Super bear cases are different, but we are nowhere near to a super bear case at present.
In all, I think this is a strong case for a major buyback in Q4. Circumstantial, but compelling nonetheless.
The short thesis partially busts: dividend maintained
A big part of the short thesis on FRG was that the company would have to cut its dividend. A dividend yield of 10% is very unusual for an ordinary company (as opposed to e.g. a REIT) and almost always resolves either through a dividend cut, or an increase in the share price. FRG has made it clear that they set the dividend for the year every December. Here's CEO Brian Kahn on the Q3 2022 earnings call:
Our normal cadence is to go through our annual budgeting process in November, which we start next week. We meet at Board in December and then set dividend policy for what we plan to be for the full year with the benefit of the budget.
In a December 19, 2022 press release, the company announced the dividend would be flat for 2023, maintaining the $2.50 per share annual rate. To the extent that the short thesis is based at all on a dividend cut, that thesis is busted.
2023 guidance is coming in late February
FRG is expected to offer 2023 guidance on the Q4 earnings call. Last year the Q4 call took place on February 23. The market is pricing in EBITDA of $300M at most. That level implies about $2.50 a share of FCF, for example. Enough to exactly cover the dividend. Anything more than that is just, well, extra. There's really no way to justify trading at a 10% dividend yield at an EBITDA over $300M. So, when the company guides, what will that guidance look like?
Importantly, 5 of the 6 operating businesses are absolutely on track, meeting original guidance of roughly $350M EBITDA. Only one operating business, AF, is missing guidance. But it's missing big, by about $100M. The reason for this is a wicked combination of a poor purchasing decision, where they bought inventory at an inflated priced due to supply chain issues, and a large demand pull forward in 2021 that resulted in lower demand in 2022.
Those issues are already easing up, and AF just needs to get back to some modest level of profitability to push guidance over $350M. Management seems pretty optimistic about at least some level of profitability at AF in 2023, albeit far from normal. In a normal year, AF will generate $150M of EBITDA, as Kahn explains on the Q3 2022 earnings call:
I believe the current asset base of 359 company-owned stores and six franchise stores has the earning power in excess of $150 million of EBITDA as it is, and we have a tremendous amount of green space to open both company-owned and franchise stores.
So this is $350M of EBITDA on the 5 segments that are doing fine, and then some fraction of that $150M. That's what FRG management is expecting in 2023, in my view, and that's what will drive guidance. My guess is guidance will be just under $400M, which they will then expect to beat during the year. Call it $385M or so of guidance, announced in February 2023. That's a lot more than the $300M upper limit that might fit a short thesis.
And finally – this is important – if they are buying back a ton of stock, and maintaining the full dividend, they are not in as much trouble as the stock price would indicate. The short thesis is already partially busted on the maintained dividend, and the rest of it may be about to crash and burn on guidance. Which is only 6 weeks away.
The share count
FRG likely has about 36M shares outstanding. There were ~39M at the end of Q3, but at the midpoint of my share buyback estimate for Q4, that's 36M. CEO Brian Kahn owns ~11M, so this already reduces the float to 25M, and if we include other closely held shares, I think the effective float might be in the low 20M range. Call it 22M.
The short interest and the calls
FRG short interest was 4.9M shares on 12/15, and in my view it was much more than that by YE 2022. Perhaps 5.5M is not a bad guess. The stock continued its downward trajectory through the end of last year, and shares available to short at IBKR went to zero at that time. I'm not suggesting that there were no shares available anywhere, but that's what IBKR was reporting. So for this reason I think the short interest ramped up more than the 4.9M reported in mid December by the end of 2022.
FRG also has an absolutely huge open call interest, including an incredible 2M+ shares under option for June 2024! And only 1,500 put options, for comparison. Not 1.5 million, 1.5 thousand. That's a truly staggering number for a stock with an effective float of perhaps 22M shares.
The implications for any investor short the stock are, well… they should be terrified. The smart shorts are already heading for the exit as fast as possible imho, ahead of the February guidance death knell of the short thesis. Shares available to short at IBKR have ramped up by almost a million since the end of 2022, likely evidence of at least some shorts closing. And if we look at the price action YTD, it's apparently already driving the price up fast.
The impact of call options on the price
Short closing is only one part of story. The other is that market makers – the ones who sell all those call options in the first place – need to hedge by buying stock. And the higher the stock price goes, the greater their exposure is, and the more shares they need to buy. It's a self reinforcing feedback loop. If there are a lot of call options out there, relative to the float, and the price rises for any reason at all – any reason – then market makers become forced buyers of the stock. And this of course drives up the stock price even more.
An aside about meme stocks
As an aside, have you ever wondered how Wall Street Bets did so well against hedge funds with a lot more money? That's it. They bought options, and then the price went up, and the spiral became inevitable. The price did not necessarily have to go up initially, and if it hadn't, the strategy would never have worked for them. But as soon as the price goes up, when there's a ton of options, there's forced buying from market makers.
Everything is in place for a hard squeeze
The exposure here, for anyone short the stock, should absolutely terrify them. There are way, way too many shares short. There are way too many call options already issued. The stock price is far too low by any reasonable valuation metric, the "dividend cut" short thesis is already busted, and any remaining short thesis is going to bust extremely hard as soon as the company guides.
There's just no way the shorts can all close in that period of time without moving the price way up. We are seeing that already in my honest opinion. And any increase in price means the market makers have to dive in and add to the shorts misery with lots of buying of their own. And any additional buying that takes place of the stock by investors looking to take advantage of this situation will have a further impact, while investors adding more call options will have an even larger impact.
The whole situation, from the POV of anyone short, is a house of cards. The ones that get out early will be ok. The rest, well, maybe not.
FRG is a potential 7 bagger from here in 3 years. No heroic assumptions needed.
FRG is a growing business. They are opening new stores across most of their segments, and have identified lofty goals of, in many cases, tripling the store count at some segments. And guidance in a normal year is about $500M, organically. Just the $350M from the 5 segments that are doing fine in 2022, and then add in the $150M that AF would do in a normal year. $500M EBITDA is a good estimate for a normal year, if 2022 were normal. Add in the growth, and in 2025 EBITDA might be $600M.
Where does this get us? Well, if they are 2.5x levered, it gets us to about $12 a share of fully taxed FCF. That just assumes they pay a dividend, and use the rest for buybacks. The arithmetic on this is as follows. $1.6B of debt (leaving $100M cash) at ~8% is $108M of interest. That rate just assumes they use their current SOFR+450 financing for the whole debt load, and the interest rate from the rate curve. And then $50M of CAPEX and $8.5M of preferred dividends, and tax at 25%. That's $325M of FCF in 2025.
And the share count will be down in this scenario. Since I am assuming $1.5B of net debt, and they are at $1.2B now, that's $300M available to use, along with ~$800M of FCF over the next 3 years. After paying the dividend, there would still be $800M left over for buybacks. At the current share price of $29, that's enough to buy all 22M of the float and then some. At an average buyback price of $90 – that's triple the current price! – we get 27M shares at YE 2025 and $12/share of fully taxed FCF.
Put a 15 multiple on this, and the price target is $180, and then assume the dividend is reinvested. It's a 7 bagger from $29. A very ordinary, bland, ho hum 7 bagger. No heroic M&A or massive growth. Management just has to show up for work every day, and the world has to be back to normal in 3 years.
Why options, and which options?
To be clear, owning the stock is a great way to go in my view. I own it myself. Lots of it.
But there's a part of me that feels that if I have information, I should not ignore it. And the fact is that the incredible, unstable position the shorts are in, combined with the low price of the stock, and the known date of guidance. That's all information. It's information about not only whether the stock price will go up, but when it will go up.
So for me, I think owning FRG options, in addition to the stock, is just an awesome, speculative trade, with a killer risk reward. As to which options are worth owning, any out of the money call that expires later than February looks pretty great to me.
The market maker is no longer selling the June 2024 calls
It's interesting to note that, at least at some brokers, one can no longer buy the June 2024 calls. One can ask the question why this is the case, and the fact is, I simply don't know. 2023 calls can still be bought, however.
Word of caution
At the risk of stating the obvious, options are inherently higher risk than stocks. Please bear that in mind.
Also, sometimes the spread is pretty wide. When that happens, I personally never pay the ask price. Instead, I put a limit order in at a price somewhere in between the bid and the ask, and then I slowly raise it until it fills. In my experience, I have usually been able to fill the order at roughly halfway between the two.
Valuation
FRG stock should be trading at perhaps $65 at some point in 2023 in my view, and that's still very cheap. But we can get to $65 as follows: $385M of EBITDA leads to $4.30 a share of FCF, then a 15 multiple on what is deeply depressed earnings that are set to rebound sharply in a recovery. Not to mention a very strong secular growth story from there. I made the case above for a $180 share price in 2025, so $65 in 2023 leaves tons of room. Owning the stock at $29 is not a hard decision.
But what's the likely return on a call option? This is speculative, but it could be pretty great. To use one example, the May 2023 $35 calls recently traded for $1.50. If the shares hit $50 over the next 4 months, that's a 10x return. Tons of upside there, which may more than balance the not inconsiderable risk of owning options!
Conclusion
FRG is a deeply underpriced stock that should return 7x by YE 2025. Owning the stock should be an easy choice to make in my view.
There are far too many shares short the stock, and a huge open interest in call options already. The short thesis has already partly busted when the company declared the dividend for 2023. The short thesis may fully bust in February when the company guides for 2023. There are likely too many shares short to cover before the company guides in February without also driving up the price.
Short covering has likely already begun, and the stock is on a tear so far in the early days of 2023. As the price rises, market makers will have to buy shares to hedge their option exposure, and it's not hard to envision perhaps 7M shares being bought in Q1 between these two sources if the price runs up. That's a lot of shares compared to the effective float of perhaps 22M, and a rather violent price response is plausible.
While I think it's an easy decision to own the stock as an investment, there's also a bold trade to consider. Buying call options is certainly not without risk, but could pay off big in a matter of months if things go well. I think it's a killer risk reward scenario, and own call options myself, along with the stock, because of this.