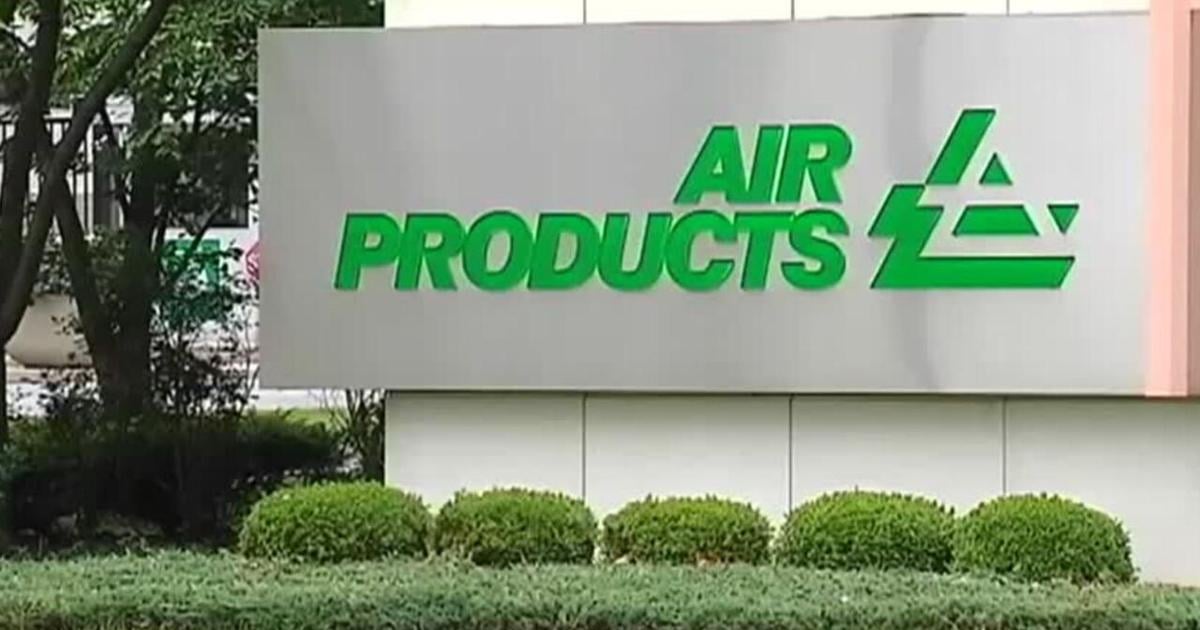 Air Products & Chemicals is on the Dow Jones Sustainability North America Index for a 13th straight year in recognition of the company's leadership in clean energy.
"Sustainability is our growth strategy at Air Products," according to Simon Moore, vice president of investor relations, corporate relations and sustainability.
Sustainable energy has multiple definitions and the term is sometimes used interchangeably with renewable energy. Yet while renewable power such as wind and solar is sustainable, other sources of energy such as "green hydrogen" can be sustainable because they do not generate greenhouse gases, which are linked to climate change.
Upper Macungie Township-based Air Products is the world's largest maker of hydrogen and is investing billions of dollars in green hydrogen. The gas is deemed "green" if is made with renewable energy, such as solar power, that splits water into hydrogen and oxygen. That process generates no carbon emissions.
"Hydrogen will be the sustainable fuel of the future," Seifi Ghasemi, the chief executive officer, chairman and president of Air Products, said in November.
The federal Inflation Reduction Act of 2022 backs Air Products' ambitions with subsidies for green energy.
The Dow Jones Sustainability recognition places Air Products in the top 20% of North American companies based on economic, environmental and social criteria.
Air Products has a goal of reaching net-zero carbon emissions in its operations by 2050, Moore said in a company statement. In 2022, the company announced plans for green-hydrogen plants in Massena, New York, and in north Texas as part of a joint venture with AES Corp.
Also in 2022, Air Products was named one of America's Best Employers by Diversity by Forbes and it was on Barron's 100 Most Sustainable Companies List, according to the company statement.
Air Products is traded on the New York Stock Exchange under the ticker symbol APD. Shares traded at $302.89 mid-morning Thursday.
If you know of local business openings or closings, please notify us here.
PREVIOUS OPENINGS AND CLOSINGS
– Air Products & Chemicals Inc. plans to invest a half-billion dollars to produce environmentally friendly hydrogen in New York state.
– The Trexlertown Chick-Fil-A plans to add a second drive-thru lane as part of a plan to reduce traffic congestion.
– The Harrisburg-based Mid Penn bank has opened its first full-service branch in the Lehigh Valley in South Whitehall.
– The Allentown Planning Commission put off a decision on a new Popeyes Louisiana Kitchen at the site of the former Nostos Greek restaurant.
– The former Star Crete concrete plant at the intersection of Farmersville Road and Easton Avenue has been sold for $1.58 million, and that may clear the way for a medical office building. 
– The local business SuperSets Gym will open its third location in Allentown's South Mall, with no opening date set yet.
– The jewelry boutique Versant will close later this year, but the business will be consolidated at Gary Werkheiser's other location in Saucon Valley Square.
– The DSW Woodmill Commons has moved to Berkshire West, 1101 Woodland Road in Wyomissing.
– Trainer Michael Melendez has opened his new Reading Extreme Boxing Club where PacSun used to operate in the Berkshire Mall. 
– Frackville NAPA Auto Parts held a grand opening with the Schuylkill Chamber of Commerce and Frackville Business & Professional Association. 
– Fyzical Therapy & Balance Centers in North Manheim Township held a grand opening, in conjunction with the Schuylkill Chamber of Commerce and Pottsville Business Association.
– PDC Machines, a maker of hydrogen compressors, showed off a new plant in Lower Salford.
– Maya Capital Partners has acquired Amwell Valley Self Storage, a 265-unit storage business on Route 31 in Ringoes, New Jersey.
– Norwescap is buying the former Sullivan's on the Main restaurant in Phillipsburg to renovate the building and then use it for programs to help educate and feed people.