view original
post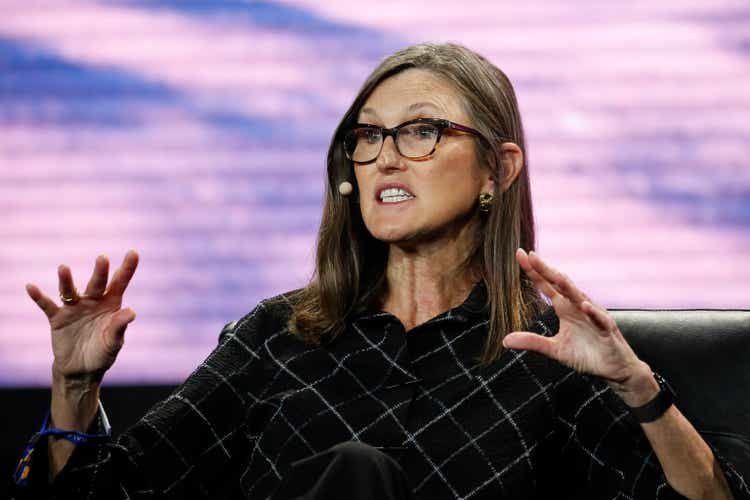 Cathie Wood is a very divisive figure in the world of finance. The controversial fund manager became one of the most popular investment managers throughout the last bull market run, really establishing herself as a role model among "high-growth" investors. Cathie was made famous by her, at the time, immensely successful investment philosophy based on what she defines as "disruptive innovation." This led her to buying at or near the top of more than one tech name, including the likes of Tesla (TSLA), Peloton Interactive (PTON), Zoom Video Communications (ZM), and many others. During the last bull market, this philosophy yielded some remarkable returns. Her signature fund, for example, outperformed the S&P 500 (SPY) by a significant margin in 2020, generating a return of 152.82%. At the absolute peak of her popularity in the back half of 2021, Cathie Wood found herself managing more than $53 billion in assets under management.
The investing firm, ARK Investment Management, managed these assets through their exchange-traded funds, such as the previously mentioned flagship ARK Innovation ETF (ARKK), but also through some of their lesser-known ETFs, including ARK Next Generation Internet (ARKW), ARK Fintech Innovation (ARKF), ARK Autonomous Tech (ARKQ), and ARK Genomic Revolution (ARKG). The firm pursues a progressive, "open-handed" approach to asset management by making its models publicly available and also publishing their daily trades. However, the recent macroeconomic turmoil that engulfed the world and the subsequent onset of a bear market led to one of the most capital-destructive track records of the decade. Her flagship fund, ARKK, generated a negative year-to-date return of 68.07% and a negative one-year return of 68.74%. Undeterred by the market selloff this year, Cathie Wood essentially doubled down on her favorite stocks, predicting that deflationary tendencies will last long into the following year.
The analysis contained within this article is based on ARK Investment Management's 13F filings, in which they were obligated to disclose their US-based equity positions. We scrape SEC 13-F filings to find newly disclosed portfolio position changes by institutional investors, along with their most recently reported holdings. While blindly following institutional investors' trades is not advisable for multiple different reasons, newly disclosed positions represent a useful source for investment ideas and potential due-diligence targets. This is especially true when combining the information from these disclosures with the information from the 13D filings, which sometimes tell a much clearer story.
Fund Overview
After another couple months of her favorite stock picks getting beat down, the ARK Innovation Fund's US-based assets under management further decreased to $14.33 billion, from the $16.90 billion they reported last quarter. During that time, Cathie Wood opened only 12 new positions while adding on top of 101 of her already existing positions. This is a tremendously long way from the peak AUM that was reported in the second quarter of 2021 when funds managed were about $53.73 billion. ARK Investment Management parted ways with 112 holdings this quarter while at the same time scaling down some 125 positions in the same time period.
The ARK fund's holdings concentration have been well-known for a long-time, as their top 10 holdings make up almost 44.05% of the AUM. Currently, the funds have three oversized positions. Making up 7.54% of the AUM, Tesla (TSLA) is still the largest holding, closely followed by Zoom Video Communications (ZM) with 5.56% and Roku (ROKU) with 5.12%. Cathie Wood routinely acquires substantial ownership stakes in companies in which she has a strong faith; as a result, ARK amassed substantial ownership stakes in 44 separate enterprises. They own 25.60% of Velo3D (VLD), which is their largest individual ownership stake. The funds also own a 23.48% stake in Blade Air Mobility (BLDE), and a 20.94% piece of Butterfly Network (BFLY). Given that she holds sizable positions in about one-fifth of her holdings, demonstrating high-conviction through building significant stakes in stocks remains to be a defining characteristic of her investing style.
New Positions
SomaLogic Inc (SLGC): represents the largest new acquisition during the quarter. The $31.95 million acquisition now constitutes close to ~0.22% of the fund's AUM. ARK purchased 11.01 million shares of the protein biomaker at prices between $4.48 and $2.90, which is far from the double-digit price the company was trading at in late 2021. This purchase spree makes ARK a 6.00% owner of the company. SomaLogic has been crushed in the markets this year, recording a 79.69% year-to-date loss. The company is now trading at around $2.50 per share.
Guardant Health Inc (GH): represents the second largest addition to the portfolio this quarter. ARK Investment Management purchased 540 thousand shares of the leading precision oncology company for roughly ~$29.18 million. This position now takes ~0.20% of the ARK holdings. ARK was buying shares of the California-based company at prices between $43.66 and $53.83. However, similar to SLGC, Guardant Health has been chewed up by the market. The company is down 72.24% year-to-date as it currently trades at around $27.11 per share.
Moderna Inc (MRNA): is a much better known major addition to Cathie Wood's portfolios for this quarter. ARK purchased 160 thousand shares of the biotechnology company for ~$19.34 million. Shares were purchased in the $149.95 to $118.25 range. Moderna held out well during the slaughter, outperforming the market by roughly 10% year-to-date. The purchase makes MRNA the 86th largest holding within the fund, currently taking up ~0.13% of the assets. This investment fared much better for Cathie Wood, given that MRNA currently trades for as high as $182.93 per share.
ARK Investment Management also opened positions in the likes of Z Holdings (OTCPK:YAHOF), COMPASS Pathways (CMPS), Airbus (OTCPK:EADSF), and Michelin (OTCPK:MGDDD).
Expanded Positions
Zoom Video Communications Inc (ZM): had a disastrous year in the markets, but Cathie Wood maintained her down-cost averaging policy in the company. ZM is one of her highest conviction plays which exploded during the lockdowns. It represents the second-largest holding of ARK Investment Management. ARK added to the position they had been building up all the way since the fourth quarter of 2020, adding shares between $110.97 and $73.59. It currently makes up 5.56% of the assets under Cathie Wood's control. The position was expanded by 13% this quarter, given that ARK bought another 1.31 million shares for roughly $119.86 million. The company is now trading at around $67.18 per share.
Roku Inc (ROKU): is another heavily beaten-down stock that is underperforming the market by 82.27% year to date. Nonetheless, it represents one of Cathie's highest conviction investments, and ARK is still down-cost-averaging into the business. ARK purchased another 1.77 million shares, expanding its position by 17%. They hold the position since the second quarter of 2019. Roku is now trading at around $39.31 per share.
Nvidia Corp. (NVDA): even though the chip and AI giant represents a relatively negligible position within the fund as the 22nd largest holding, ARK has effectively doubled its exposure this quarter. They increased their stake by 104%, having purchased some 700 thousand NVDA shares. It now makes up 1.17% of ARK Investment Management's US-based equity assets. Nvidia is significantly underperforming the market, having lost almost half of its market value since the start of the year. Shares of the company can currently be bought for $143.18.
UiPath Inc (PATH): has slowly grown to become one of the largest Cathie Wood holdings over the past couple of quarters. ARK has expanded the holding methodically every quarter since they initiated the position in Q2 of 2021. This quarter, the position was additionally expanded by 17%, given that the firm purchased some 8.48 million shares. Since the IPO, PATH has been in a downward spiral, losing close to 82% of its value. The company is currently selling for $12.57 per share.
Some other notable positions that Cathie added to were Intellia Therapeutics (NTLA), Block (SQ), Twilio (TWLO), Ginkgo Bioworks Holdings (DNA), and Teladoc Health (TDOC), among others.
Reduced Positions
Tesla (TSLA): it becomes quite difficult to discuss Cathie Wood and her ARK funds without at least touching on the subject of quite possibly her favorite company of all time. She was made famous partially by her outlandish projections, such as the one that Tesla will hit $4600 per share in 2026. Yet, this is the sixth consecutive quarter in which the firm trimmed down its Tesla stake. Considering that ARK acquired a stake all the way back in 2016, we can conclude that Cathie is collecting and redistributing gains to other investment opportunities. ARK's largest holding was trimmed down by another 5%. The company currently trades at around $110.79 per share.
CRISPR Therapeutics AG (CRSP): is definitely one of the more notable positions that was trimmed this quarter, given that we are discussing the 7th largest holding in the firm. ARK holds a 10.76% stake in the company. They trimmed the position by 15% this quarter as they disposed of 1.49 million shares. It was first acquired in the second quarter of 2017, while the company was trading at around $16 per share. Even after the company declined some 44.36% year-to-date, Cathie Wood is still harvesting some significant gains in this position. CRSP is currently selling for about $40.00 per share.
Coinbase Global, Inc. (COIN): contrary to the previous two holdings, there won't be many realized gains when it comes to the famous cryptocurrency exchange platform. It is interesting that the company was worth almost $76.91 billion late last year but famously lacked a physical headquarters as all employees worked fully remotely. ARK was paying more than $200 per share for Coinbase, which grew to become a top 10 position for the firm. Cathie cut her COIN exposure by another 13% as they sold some 1.23 million shares. The company is currently trading at $34.49 per share.
Spotify Technology SA (SPOT): is one of the largest trimmings in the quarter given that ARK cut its exposure by almost 61%. This is the second consecutive quarter in which the firm effectively cut its exposure in half. Cathie Wood sold approximately 1.24 million shares, making Spotify less than 1% of the portfolio for the first time since it bought into the company back in 2018. Spotify is down 68.18% year-to-date and currently trades for $79.89 per share.
ARK Investment Management also cut its stakes in Beam Therapeutics (BEAM), DraftKings (DKNG), Robinhood Markets (HOOD), PagerDuty (PD), Ionis Pharmaceuticals (IONS), and Trimble (TRMB), among others.
Closed Positions
Walt Disney (DIS): the firm finally ended its quarterly long process of dumping its Disney holdings. ARK's first acquired a stake in the company way back in the second quarter of 2021 in the $188.97 to $177.11 range. The vertically integrated entertainment giant, similar to other players in the space such as Paramount Global (PARA) and Warner Bros. Discovery (WBD) got crushed in last year's market trading. They have been disposing of their stake since Q1 of 2022, which means they have lost roughly half of the principal. Disney currently trades at only $88.36 per share.
1Life Healthcare Inc. (ONEM): was Cathie Wood's second largest stake sale this quarter. The position was first initiated in Q1 of 2021. Back then, ARK paid anywhere in the range of $42.63 to $41.53 for the company and kept down-cost-averaging up until the beginning of the year, when the course was changed. Amazon (AMZN) purchased the company for $18 per share in a $3.9 billion deal. Cathie chose not to wait for the deal to close and realized her losses, losing more than half of her investment.
XPeng Inc. (XPEV): has been another very painful investment for ARK. The firm acquired the take during the fourth-quarter of last year when the company was trading between $35.46 and $50.33 per share. They added more in the two subsequent quarters as the price tumbled, but then changed course and dumped their entire stake in the third quarter this year. ARK sold all of its remaining 940 thousand shares. XPEV currently trades at around $10.51 per share.
Cathie also sold out of Okta (OKTA), Matterport Inc (MTTR), ConforMIS (CFMS), Etsy (ETSY), and Shapeways Holdings (SHPW), among others.
Final Overview
As a very difficult investing year slowly crawls to an end, it would seem we have witnessed both the rise and fall of Cathie Wood's ARK and her hypergrowth investing style. However, as many of these high-flying growth stocks break their 52-week lows almost daily, with some of them carrying only a fourth or a fifth of their former market caps, one might wonder if the pendulum has finally swung the other way. This comes as even hard-core value investors find themselves more frequently associated with companies and investment ideas that some would simply write off as "Cathie Wood" stocks prior to the market crash.
Editor's Note: This article discusses one or more securities that do not trade on a major U.S. exchange. Please be aware of the risks associated with these stocks.