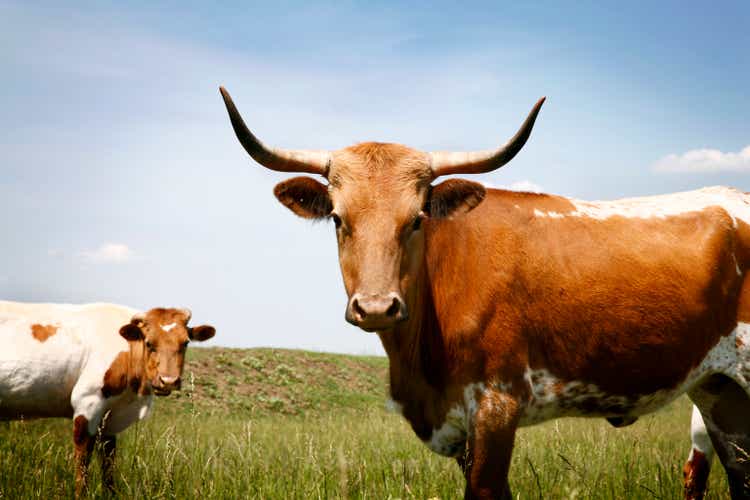 Today's CPI continues to suggest the obvious, which is that inflation is cooling. However, it's not cooling by all that much when considering the services sector. Core services, excluding energy services, rose by 7% y/y in December vs. a gain of 6.8% y/y in November, with shelter being a big piece of that increase.

However, Services less rent of shelter increased by 7.4% y/y in December vs. 7.3% in November, and services less Medical Care rose by 8% in December vs. 7.6% in November, a new high.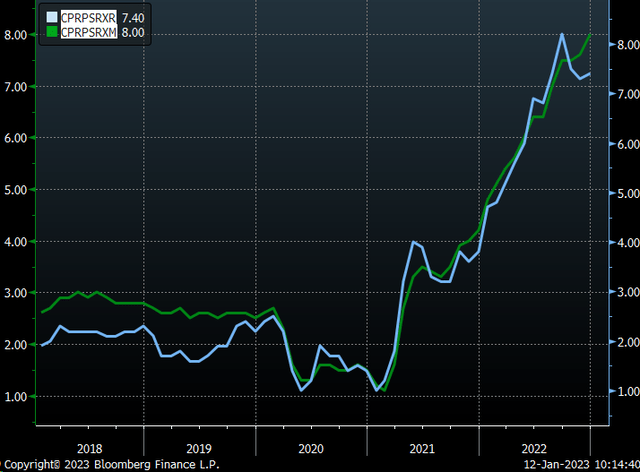 The recent move lower in inflation does warrant the Fed to slow the rate hikes, an obvious outcome since the Fed is targeting a terminal rate of just over 5%, and the overnight rate is now 4.35%. However, it does not suggest that the Fed will likely start cutting rates.
Also on Thursday, initial jobless claims and continuing claims continued to support the idea that the job market remains very tight and that the unemployment rate is likely to remain very low in January.

The combination of services inflation and a tight labor market is likely to keep the pressure on the Fed not to back off from raising rates and keep rates higher than what the market is currently pricing, which is a peak terminal rate of 4.9% in June 2023.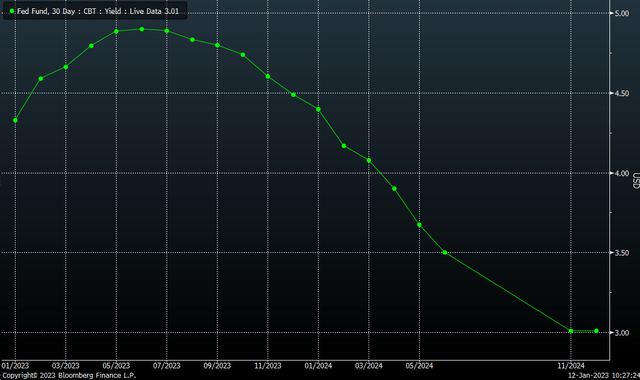 But all of this could change rather dramatically should the dollar continue to weaken versus the Chinese Yuan and prices for commodities such as oil, copper, gasoline, and iron ore rise. A weaker dollar will increase import prices, and rising commodity prices will help push headline CPI higher. Freight rates from Shanghai To Los Angles ticked higher this past week for the first time in some time, and while it certainly doesn't suggest rates are going back to their all-time highs, it needs to be monitored.

If it has been things like gasoline and oil prices that have driven headline inflation sharply lower, and prices do begin to turn higher, it would suggest that there will not be a straight-line drop to a 2% inflation rate as the market seems to have priced in.
For example, gasoline non-seasonally adjusted alone fell by 12.5% month-over-month in December, which resulted in the gas prices dropping by 2% y/y in December, down from an increase of 9.8% in November.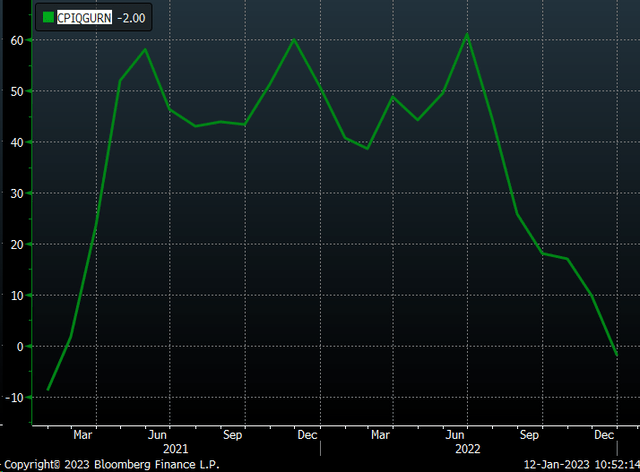 More recently, RBOB gasoline futures prices have been on the rise and are showing a lot of strength and could very well be heading higher as it breaks above a significant downtrend that starts in October.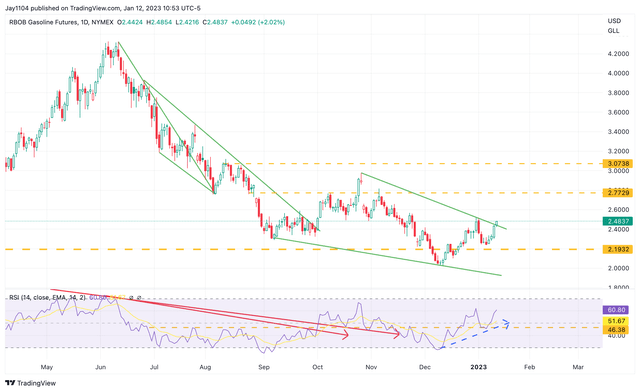 While there are signs of cooling inflation, a good thing, it will probably stick around for longer than the markets think. More importantly, it's likely to remain very volatile, which will keep the Fed from making a knee-jerk reaction and keep them on pace to reach a Fed funds rate of 5.1% and then hold them there for some time.