view original
post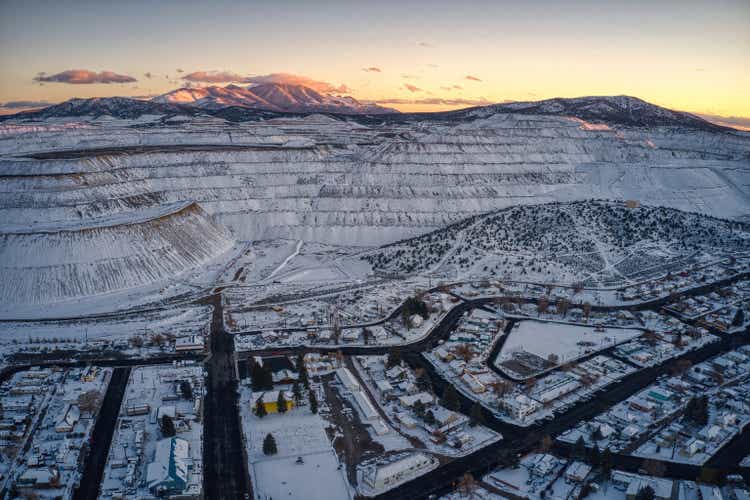 Just over four months ago, I wrote on Royal Gold (NASDAQ:RGLD), noting that the stock was very attractively valued at less than 13x forward cash flow as it hung out below $93.00 per share. This was especially true given that the company continued to augment its operating and development portfolio with key additions and with a clear focus on Tier-1 jurisdictions that was helping to improve its jurisdictional profile further. Some of these additions included Great Bear, Red Chris, and Cortez. Since then, the stock is up ~35%, is not resting on its laurels with its Cortez exposure bolstered further, and is on track to report record GEOs in FY2023.
While the company's recent additions have provided a nice boost to its development pipeline and added considerable depth to its portfolio, it's also set the company up for what should be a record year in FY2023 from a GEO sales standpoint. And assuming the gold price can cooperate, we should also see a significant increase in cash flow per share. Given Royal Gold's significant valuation discount to its peer Franco-Nevada (FNV) and solid additions to its portfolio over the past year, I see the stock as one of the best ways to gain precious metals exposure without paying an unreasonable price. That said, the stock is extended short-term, hence my Neutral rating.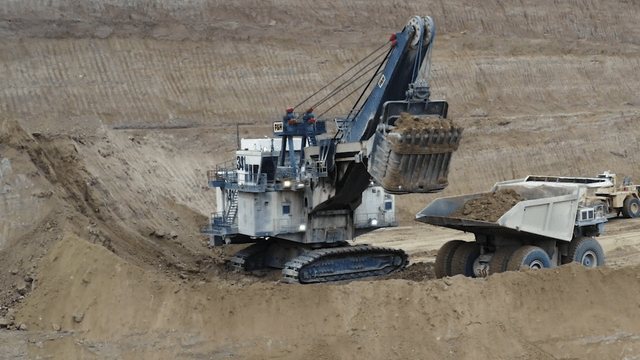 Doubling Down On The Cortez Complex
Royal Gold announced one of its largest deals ($525 million) in the past several years in 2022, acquiring a 1.2% gross royalty on Nevada Gold Mines LLC's [NGM] Cortez Complex in Nevada, second only to the Carlin Complex from a scale standpoint within their Nevada joint-venture. Royal Gold certainly paid a rich valuation for the deal at well above 1.0x P/NAV, but this reflects the quality of this asset from a People, Place, and Project standpoint [PPP]. In the case of Cortez, you can't find any better operator than a combination of the two largest gold producers with the JV led by Barrick's (GOLD) CEO Mark Bristow, a disciplined leader and geologist by trade, who has turned Barrick around and had a glowing track at Randgold.
Meanwhile, Nevada certainly ranks in the top 3 mining jurisdictions from a "places" standpoint. The project is an absolute monster, having produced over 27 million ounces of gold since 1969 alone, with historical production that began in the early 1900s. Just last week, Royal Gold affirmed its confidence in this exceptional asset, announcing the acquisition of two portions of a gross smelter return royalty that cover the Cortez Mine operational area, the Fourmile Project (owned by Barrick but could be added to the NGM JV in the future), and the existing Robertson deposits, which were not part of the initial Rio Tinto royalty acquisition. The most recent deal was completed for $204 million, and it includes the following:
0.24% gross royalty rate covering areas including the Pipeline and Crossroads deposits
0.45% gross royalty rate covering areas including the Cortez Hills, Goldrush, Fourmile, and Robertson deposits.
Following these deals, Royal Gold has provided the table below, which helps simplify its exposure to the massive Cortez Complex. As we can see, the company now has a 9.4% blended GSR royalty on the Legacy Zone (Pipeline and Crossroads deposits), up from 8.0% previously. The company also has a 1.6% blended GSR royalty on the Cortez Complex Zone (Cortez Hills, Cortez Pits, Fourmile, Goldrush) and a 2.2% on the Goldrush Southeast deposit, and a 0.45% GSR on the lower-grade Robertson deposit north of the main mining area, and nearly three miles from Crossroads. Royal Gold noted that its most recent royalty acquisition (Idaho Royalty for $204 million) would add ~4,000 gold-equivalent ounces [GEOs] in 2023 and 5,000+ GEOs in 2028 based on estimates.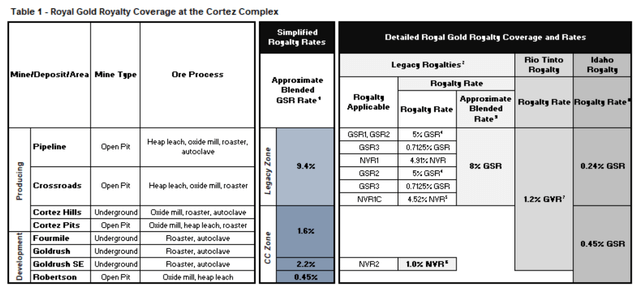 The initial gross value royalty of 1.20% was acquired from Rio Tinto (RIO), with Rio holding out until the eleventh hour to sell the asset right before the 15 millionth ounce had been produced from the royalty area of interest before selling it to Royal Gold for $525 million. The second royalty was acquired from holders who are successors to Idaho Mining Corporation.
Looking at the Cortez Complex below, we can see that this is a very impressive complex, which has averaged annual production of more than 1.08 million ounces of gold per annum over the past decade and should see gold production head back above 1.2 million ounces per annum post-2026, and up to 1.3 million ounces in 2027. This is based on the addition of the high-grade Goldrush Complex, which will be a near Tier-1 scale operation, and where test mining has already begun with a Record of Decision expected in H1 2023 (slightly behind previous expectations of H1 2022). Meanwhile, Robertson could add 250,000+ ounces per annum post-2026, and this doesn't even consider Fourmile, a project with ~3.0 million ounces of resources at exceptional grades (~10.65 grams per tonne of gold).
Digging into the chart above, Goldrush is a key pillar of growth for NGM's Nevada joint venture, expected to provide a steady stream of high-grade material for its roasters in the state. Fourmile could provide an additional ore source for these roasters, and while Robertson may be low-grade, it continues to grow with the potential to fill in the gap from Robertson to Pipeline, where there are favorable host rocks. In addition, we've seen recent high-grade hits to the west of Robertson at Distal, with Barrick reporting intercepts of 13.9 meters at 15.57 grams per tonne gold and 12.0 meters at 2.17 grams per tonne gold, well above the average Robertson resource grade.
So, why was Royal Gold willing to pay such a rich price to increase its exposure to this asset?
Besides the fact that the Cortez Complex clearly checks all the boxes from a PPP standpoint and that it's an excellent fit given Royal Gold's extensive knowledge of the asset, it's worth looking at its history and resource base. For those unfamiliar with Cortez, it is located 100 kilometers southwest of Elko, and mining began at Hilltop in the early 1900s before the discovery of Gold Acres in the 1920s. Mining would then start at Gold Acres in the 1930s before the eventual discovery of Cortez in 1966. This was followed up by the construction of Cortez Mill #1, the discovery of the Horse Canyon deposits in 1976, and the discovery of the Pipeline and Gap deposits in the early '90s.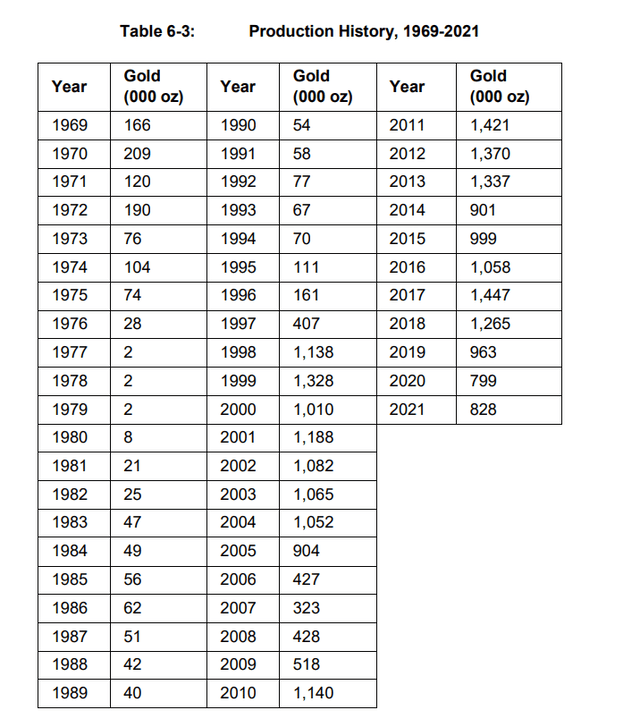 Less than a decade later, Crossroads was discovered in 1998, and the massive Cortez Hills deposit was uncovered in 2002. Finally, Barrick acquired Placer Dome in 2006 to gain a 60% interest in the Cortez JV, bought out Rio Tinto's interest in the Cortez JV, and has since added Robertson, made a massive discovery at Goldrush, and looks to be in the process of uncovering another monster currently, Fourmile, which could eventually be added to the Nevada Gold Mines JV. In fact, despite this asset producing ~27 million ounces of gold since 1969, its proven & probable reserves sit at 14.0+ million ounces, and its M&I resources are currently sitting at ~18.0 million ounces at well above industry-average grades (2.7 grams per tonne gold). When combining inferred and M&I ounces, Cortez is home to ~24.0 million ounces of gold, or ~27.0 million ounces if we include Fourmile.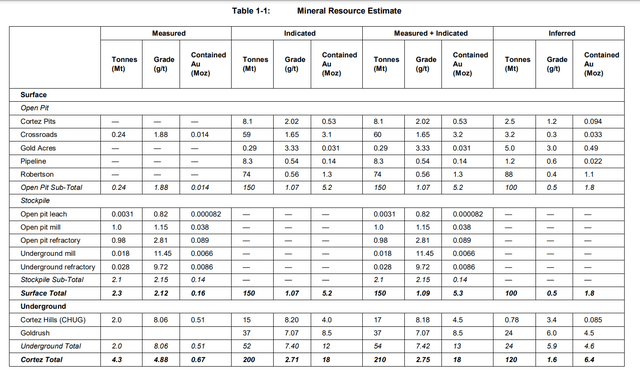 Royal Gold has provided a chart in its presentation to show this incredible resource and reserve replacement despite significant mining depletion, and with Nevada Gold Mines continuing to invest heavily in Nevada with a 200 MW solar plant planned, I would expect that they are just as bullish on their future at Cortez and Carlin as Royal Gold who has invested ~$730 million in Cortez alone over the past year. Finally, it's worth looking at the images below to see how massive the future Goldrush mine is in size (8.5 million M&I ounces at 7.1 grams per tonne of gold) and the opportunity at Fourmile, which is the northern extension of Goldrush.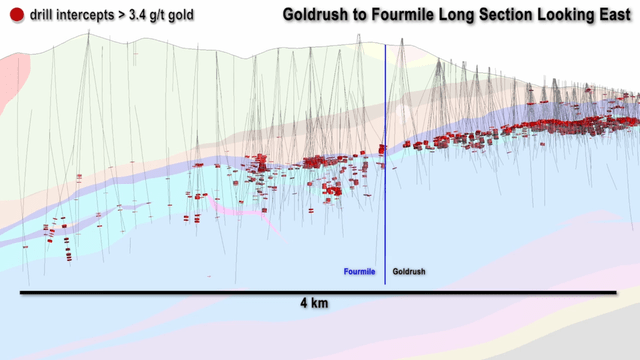 As the image above shows, Fourmile doesn't have nearly the drill density to date as Goldrush but has exceptional grades (10.6+ grams per tonne gold vs. ~8.0 grams per tonne gold) and a massive strike extent, suggesting this could easily grow to a 5.0+ million-ounce resource base with further drilling. In fact, Barrick recently shared in a quarterly update that there appears to be strong evidence that the mineralized system is present three kilometers north of Fourmile along the interpreted structural corridor.
Assuming Fourmile was added to the Nevada Gold Mines JV, given its superior grades and opportunity to blend mill feed, it's possible that Goldrush and Fourmile could combine for north of 500,000 ounces of gold per annum. Plus, there's still considerable resource upside at Fourmile, with Dorothy, which lies north of Rose, Sophia, and Blanche, named after the Golden Girls. Plus, there's additional upside across the Cortez Complex with Goldrush East, the Pipeline to Robertson Corridor, the Horse Canyon Footwall, and South Fox. So, to summarize, Royal Gold has exposure to a mining complex that will likely produce well into the 2050s in a top-3 mining jurisdiction, making it easier to see why it was willing to pay a premium price, just as Agnico Eagle (AEM) was willing to pick up half of Malartic, an asset it also knows intimately in Quebec.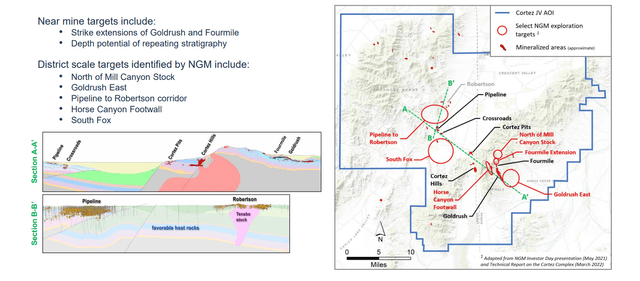 Royal Gold's Updated Portfolio
The result of this deal is that Cortez will claw its way up to being a #3 asset for Royal Gold, just behind Mount Milligan in British Columbia and Pueblo Viejo in the Dominican Republic. This will certainly help the company from a diversification standpoint, but given Royal Gold's robust pipeline, it is already set to see a significant improvement in its revenue diversification. This is because King of the Hills is now in production and Bellevue is set to begin production next year (adding Australian diversification), and Cote Gold and Manh Choh are expected to be in production by the end of 2024, adding further Tier-1 jurisdiction exposure in the United States and Canada.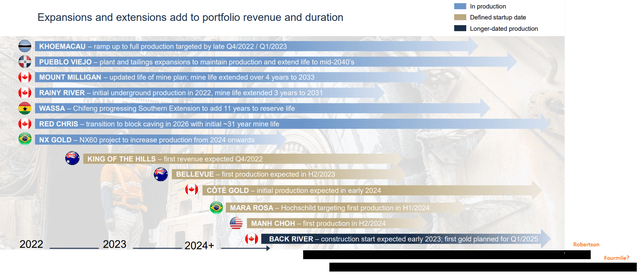 Meanwhile, the company will see an immediate bump in production from its new royalty on the Cortez Complex (United States); it looks like it will see a further increase in production post-2025 from Nevada due to i-80 Gold's (IAUX) aggressive growth plans with Royal Gold holding royalties on Granite Creek/Ruby Hill, and we should see further GEO contributions from Goldrush post-2025, Robertson in 2027, and potentially Fourmile by late 2028 depending on how aggressive NGM chooses to be with this new high-grade asset. Finally, Sabina's (OTCQX:SGSVF) Back River will add further Tier-1 exposure post-2025, and Red Chris will transition to block caving in 2026, providing an additional boost in GEOs from Canada.
To summarize, Royal Gold's portfolio is set to see a significant improvement in diversification, with most of this coming from Tier-1 jurisdictions, reducing the company's concentration to assets like Mount Milligan and, importantly, improving its jurisdictional profile vs. heavy exposure to Ghana (Wassa), Chile (Andacollo), and Dominican Republic/Brazil (Pueblo Viejo/NX Gold). Given that Royal Gold has accomplished beefing up its development pipeline and fortifying its portfolio of royalty/streaming assets without issuing shares and still has $500+ million in liquidity, its work over the past two years is certainly positive, and while the price paid for this growth could have been better, one could argue that it's not easy to get assets of this caliber at a discount to NAV.

Lastly, I'd be remiss not to note that things appear to be going better at Khoemacau (Royal Gold silver stream), with underground production reaching 8,000 tonnes per day in September, and the 10,000 tonnes per day target mining rate is expected to be sustained by this quarter and potentially as early as December 2022. So, Royal Gold will see further silver exposure and diversification from this asset, giving it further growth next year and setting it up for what should be a 335,000+ GEO year, which should be a new record for the company vs. 2021 levels.
Valuation & Technical Picture
Looking at the chart below, we can see that Royal Gold has historically traded near ~21.8 cash flow (15-year average) and is currently trading at ~20.8x cash flow, suggesting it's trading at only a slight discount to fair value. However, based on cash flow per share estimates of ~$6.45 in FY2023 and ~$6.85 in FY2024, the stock is trading at approximately ~19.4x FY2023 estimates and ~18.2x FY2024 estimates at a share price of $125.00, and this assumes no new deals on operating assets are completed and limited upside in gold/silver prices. Based on what I believe to be a fair multiple of 23.0x cash flow post-2023 to reflect its improved diversification, I see a fair value of $148.30, translating to just over 18% upside from current levels.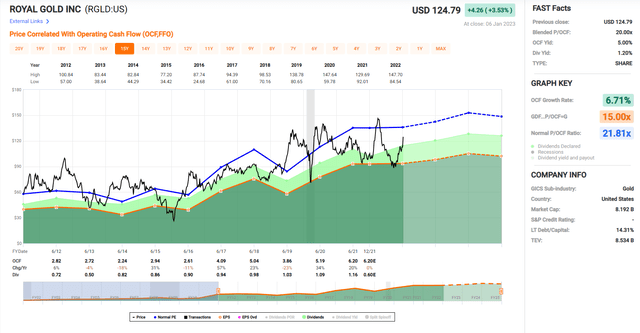 While this is certainly well below the upside investors might find in producers, it's worth noting that Royal Gold has a phenomenal track record of dividend growth (unlike most producers), is inflation-resistant, and is much more diversified than the average producer. It also has much better margins and a superior jurisdictional profile, especially after the Cortez royalty additions. So, one should be willing to take less upside in a royalty/streaming name vs. a producer, given that it offers more safety and typically lower volatility. That said, RGLD is nearing short-term resistance at $130.00 and no longer has a 25%+ discount to fair value, suggesting that the better move is buying sharp pullbacks, not chasing it above $125.00.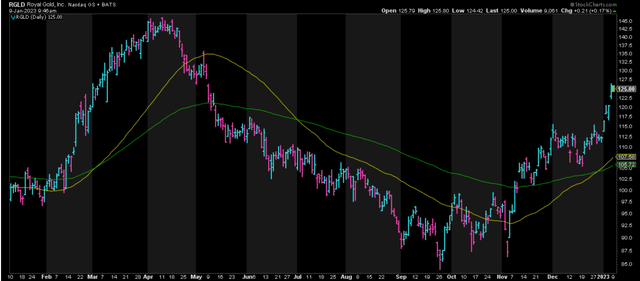 Summary
Royal Gold has consistently traded at a discount to its largest peer, Franco-Nevada. This makes sense, considering Franco has a greater scale and less concentration on its top five assets. However, with Franco-Nevada seeing some negative news out of its largest contributing asset (Cobre Panama) and Royal Gold further improving its portfolio and trading at a much cheaper P/NAV multiple (1.70x vs. 2.10x), I would not be surprised to see RGLD outperform FNV over the next year. That said, the time to buy RGLD is when it's out of favor and hovering near support, not inching towards resistance, and up ~45% in just over two months. So, while I think RGLD continues to be a top-12 name sector-wide to gain precious metals exposure, I plan to wait for a sharp pullback to start a new position.