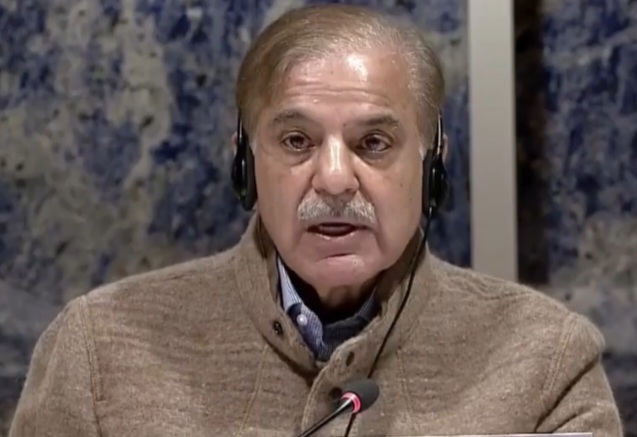 Prime Minister Shehbaz Sharif on Monday said "the one thing we have learned is that nothing can go back to business as usual" as he reflected on the crisis brought on the country by the devastating floods Pakistan saw last year.
The PM is in Geneva along with a high-level delegation to co-chair the International Conference on 'Climate Resilient Pakistan', along with UN Secretary-General (UNSG) Antonio Guterres.
Read Climate talks, alarm bells and hollow victories
PM Shehbaz is accompanied by Foreign Minister Bilawal Bhutto Zardari, Finance Minister Ishaq Dar, Climate Change Minister Sherry Rehman and Information Minister Marryium Aurangzeb.
The daylong event has gathered high-level representatives from dozens of countries, including several heads of state and government.
While not strictly a pledging conference, the UN and Pakistani representatives have said that it aimed to mobilise support as the country rebuilds after the floods that left more than 1,700 people dead and affected over 30 million others.
Extending his "profound gratitude" towards the attendees and particularly the UNSG for co-chairing the meeting with him, Shehbaz reminded the international community that "the most important link" in Pakistan's uplift was financial support.
The premier while sharing details of the scale of destruction the country has suffered said that "various parts of Sindh and Balochistan still remain under water".
The floods, blamed on climate change, dealt a severe blow to Pakistan's strained economy while displacing some eight million people and killing at least 1,700.
Read More Climate talks, alarm bells and hollow victories
"Last October, in collaboration with our development partners we developed a post-disaster needs assessment (PDNA) that calculated the total destruction and economic losses from the floods to exceed $30 billion which is 8 per cent of Pakistan's GDP, pushing 9 million people into abject poverty," he said.
"The Pakistani nation as well as the government has responded courageously to this catastrophe," he added, "those who had little came forward to help those who had lost everything".
"Millions volunteered to feed, clothe and shelter their unfortunate brothers and sisters," said PM Shehbaz as he also noted the "wonderful contributions" of friendly countries.
"The one thing we have learned is that nothing can go back to business as usual," the PM stressed, "tough choices will continue to be made and I am painfully aware that a taxonomy of harder and harsher reforms will make lives on the Pakistan streets and villages harder than ever before".
"But the scale of the resource gap for funding crisis recovery is so wide that it has redefined how we think about resilience," he continued, "frankly, it has changed life forever".
Pakistan has built a framework for the country's uplift, said PM Shehbaz adding that a minimum of $16.3 billion were needed for the country to rebuild and rehabilitate families and the lives of thousands.
Pakistan needs $8 billion from its international partners over the next three years to rebuild the country that is reeling from last year's devastating floods, PM Shehbaz said.
"If that gap continues to obstruct our recovery and minimum resilience needs, the results may be too catastrophic to imagine," warned the PM.
Shehbaz termed the conference as an opportunity for the world to show its solidarity and commitment towards building a sustainable future.
"I know these are times of extreme pressure and economic hardships in many countries, but Pakistan needs a new coalition of the willing: one that can save lives and put them on a path to responsible global citizenship," he added.
Read More UN to convene 'no-nonsense' climate summit in 2023
In his address, FM Bilawal Bhutto Zardari welcomed the international community's coming together as he expressed his gratitude towards them in aiding the country with the emergency situation in Pakistan brought on by devastating floods.
Speaking at the opening ceremony, Bilawal said that "we will need considerable support" from the international community as he sought solidarity to help Pakistan achieve a "resilient" future.
The FM said that rehabilitation "continues to this day" as Pakistan battles with wide-scale destruction brought on by the environmental catastrophe.
Speaking at the occasion, UN Secretary-General Antonio Guterres said that in his visit to Pakistan last year he saw with his own eyes the impact of the torrential rains in flood-hit areas and in particular praised the nation for its resilience.
"Even through the darkest moments, the giving spirit of the Pakistani people has shown brightly," said Guterres, "I have seen neighbours helping neighbours with food, water and shelter".
"My heart broke when I saw first-hand the active devastation of last summer's floods. No country deserves to endure what happened to Pakistan, but it was especially bitter to watch that country's generous spirit being repaid with a climate disaster of monumental scale," he added.
French President Emmanuel Macron, Turkish President Recep Tayyip Erdoğan, Norwegian Prime Minister Jonas Gahr Store and President European Commission Ursula von der Leyen shared messages of solidarity at the event via video link.
Ministers Ishaq Dar, Ahsan Iqbal and Sherry Rehman also spoke at the inaugural ceremony urging the international community to step up its efforts to support Pakistan.
More than $16 billion is needed to help Pakistan recover from devastating floods that submerged a third of the country last year, and to better resist the impact of climate change, the UN had said on Thursday.