view original
post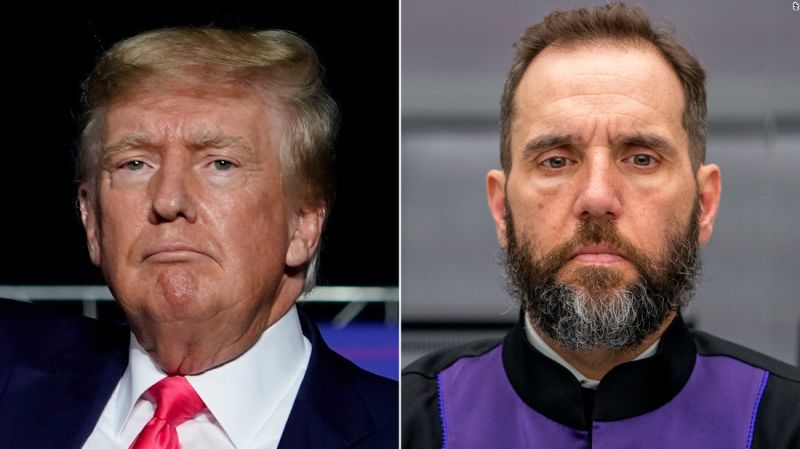 Two years after rioters stormed the US Capitol, the Justice Department's sprawling criminal investigation into the effort to block the peaceful transition of power enters a new phase with the special counsel adding two right-hand prosecutors to an experienced team that will ultimately determine whether former President Donald Trump or his allies should face prosecution.
Special counsel Jack Smith has returned to the US after spending the past month working remotely in Europe while recovering from a bicycle accident.
He is adding two longtime associates who have specialized in public corruption cases, according to a person familiar with the matter: Raymond Hulser, the former chief of the DOJ's public integrity section, and David Harbach, who conducted cases against former Sen. John Edwards and Virginia Gov. Bob McDonnell.
The expansion under Smith shores up the office's ability to examine broad conspiracy cases and determine the avenues of the investigation, another source said. They join a team of more than 20 prosecutors from DOJ, as well as senior advisers brought into the department in recent months, who were already investigating Trump and his allies.
Despite Attorney General Merrick Garland's assurances that Smith's appointment won't slow down the dual Trump-related probes, setting his office up does take time. Smith's team is still working to find a permanent physical office location but has begun changing over email addresses for staffers who had previously been using their usual Justice Department accounts.
Harbach was seen by CNN getting his bearings in the federal courthouse in DC on Thursday, speaking to another special counsel prosecutor about extremist group cases and briefly sitting in on an ongoing Oath Keepers seditious conspiracy trial.
According to the Justice Department, more than 950 defendants have been arrested for their alleged participation in the January 6, 2021, riot, with more than 500 being found guilty. Four people died in the attack, including rioter Ashli Babbitt who was shot by a Capitol police officer, two members of the crowd who suffered heart attacks, and one who died of an overdose. DOJ says 140 officers were injured that day and five officers died in the months after the riot – one of strokes and four by suicide.
Smith and his new team have inherited the January 6 probe at a crucial juncture, as the public has a better understanding of the lengths the former president and his allies went to try to keep Trump in the Oval Office but also as congressional investigators hit the limits of their powers.
And where the House select committee hit brick walls in its probe – including with recalcitrant witnesses who claimed privileges, or, like Mark Meadows, bailed on cooperating with congressional investigators midway through – DOJ prosecutors now working under Smith will have certain tools to dismantle those barriers. They include ongoing legal proceedings about piercing the shield of confidentially that normally surrounds a president.
The special counsel also has a massive amount of evidence already in-hand that it now needs to comb through, including evidence recently turned over by the House January 6 committee, subpoena documents provided by local officials in key states and discovery collected from lawyers for Trump allies late last year in a flurry of activity, at least some of which has not even been reviewed yet, according to sources familiar with the investigation.
Smith himself sent subpoenas to election officials in seven battleground states and received a trove of material. Included in the response from Michigan's secretary of state is an email from a county official who was reporting two voicemails they received in December 2020 from individuals seeking access to voting equipment. One call came from someone claiming to work for Trump's post-election legal team, the clerk wrote.
Efforts to get to Trump himself

As Trump's direct involvement in efforts to block the certification of the 2020 election becomes clearer, so too do the hurdles investigators may face if they try to build a case against the former president.
"They may get to the colonels, but they may not get to the general," Michael Moore, a US attorney during the Obama administration, told CNN.
Witness emails, text messages and testimony from the House January 6 committee show Trump's role in pushing alternate slates of electors, pressing battleground state officials to overturn the election results, attempting to replace the acting attorney general with someone who would embrace election fraud claims and laying the groundwork early on to call his followers to the Capitol.
"POTUS expectations are to have something intimate at the ellipse, and call on everyone to march to the capitol," rally organizer Katrina Pierson wrote in an email days before the Capitol attack.
But interview transcripts released by the committee also reveal gaps that could stymy federal investigators, witnesses with faltering memories and testimony about Trump's tech-avoidance.
"My father doesn't use text messaging or email," Donald Trump Jr. told congressional investigators during his interview. As for other messaging apps, "I'm not sure he'd even know what they were," Trump Jr. said.
Trump's style of making ambiguous asks rather than direct demands was also on display as he pressed state officials to upend the election results. "One thing I do remember is that he never, ever, to the best of my recollection, ever made a specific ask," said Michigan's former Senate Majority Leader Mike Shirkey. "It was always just general topics."
New insight to who knew what about the fake electors scheme

The committee's investigation has given a fuller and more nuanced picture of the interconnected plots that the DOJ has been investigating, including a scheme to put forward slates of illegitimate Trump electors from battleground states that Biden won to pressure then-Vice President Mike Pence and Congress to halt the certification of the results.
Campaign staff testified that Trump was behind the drive to carry out the maneuver, and the panel collected other evidence that Trump was in the loop about its operation – including with a phone call to RNC Chairwoman Ronna McDaniel.
According to the evidence collected by the committee, many of the state-based operatives and fraudulent electors themselves were largely in the dark about what the endgame of the gambit was. Several of them testified that they were under the impression alternate electors were being assembled as a contingency plan in case Trump prevailed in a legal challenge that changed the result in their state.
Meanwhile, top Trump campaign officials distanced themselves from the effort after the last prominent election challenge – a far-fetched petition at the Supreme Court – petered out on December 11, 2020.
For those who continued working on the scheme with Congress' certification in mind, "DOJ would have a much easier case to prove," said Ryan Goodman, a New York University School of Law professor and former Department of Defense general counsel.
The committee has assembled evidence that a group of Trump legal advisers – and namely, ex-Wisconsin state Judge Jim Troupis and lawyer Kenneth Chesebro – were looking at Congress's certification as they put the fake electors plan in motion.
A memo outlining the plan on December 9 suggests those advisers saw the alternate electors crucial not only in the event of a court ruling that reversed Trump's electoral loss, but if a "state legislature" or "Congress" deemed the Trump electors as the valid ones.
Trump and his allies could face additional criminal exposure, beyond the DOJ probe as prosecutors in Georgia are also investigating efforts to overturn the presidential election results there. The Atlanta-area district attorney leading that probe, Fani Willis, has labeled the individuals who served as pro-Trump electors from Georgia are "targets" in her investigation, along with some notable Trump allies like Rudy Giuliani.
Mark Meadows in the spotlight

While the committee made the historic move of referring Trump to the Justice Department for criminal prosecution, it also named several Trump allies as potential co-conspirators in its final report. One of them was former White House chief of staff Mark Meadows.
"It was pretty obvious that the ex-president was the center of this conspiracy, but he was certainly assisted by many others, including … Mark Meadows and the like," said Rep. Zoe Lofgren, a California Democrat who served on the committee.
Meadows repeatedly comes up in the committee's investigation, with evidence showing his involvement on some level in every gambit to overturn the election. Some of the most revelatory evidence came from Meadows himself – in the thousands of text messages he turned over to the committee before ceasing his cooperation with the investigation.
The texts show that beginning on Election Day, Meadows was connecting activists pushing conspiracy theories and strategizing with GOP lawmakers and rally organizers preparing for January 6. Two days after the election, Trump Jr. was texting Meadows with ideas for keeping his father in power that he thought were "the most sophisticated" and "sounded plausible."
Meadows and Giuliani, Trump's one-time attorney, were involved in early conversations about putting forward fake slates of electors, according to testimony that former White House aide Cassidy Hutchinson gave to the committee.
Transcripts released by the committee also reveal that Hutchinson testified before the committee how Meadows regularly burned documents in his fireplace around a dozen times – about once or twice a week – between December 2020 and mid-January 2021.
After producing the texts to congressional investigators, Meadows changed gears and did not show up for subpoenaed testimony before the House. A lawsuit he filed challenging the subpoena was unsuccessful, but the Justice Department opted not to bring criminal charges for his lack of cooperation.
The committee noted in their report's summary that criminal prosecutors may have access to materials that lawmakers didn't have, pointing to Meadows specifically.
"Indeed, both the Department of Justice and the Fulton County District Attorney may now have access to witness testimony and records that have been unavailable to the Committee, including testimony from President Trump's Chief of Staff Mark Meadows, and others who either asserted privileges or invoked their Fifth Amendment rights," the summary said.
"When it comes to the President, he committed no crime so there should absolutely be no prosecutions related to him," said Timothy Parlatore, one of Trump's attorneys.
Parlatore insisted Trump and his team "were not looking to overturn the will of the people, only to ensure that the will of the people was accurately counted," adding that Trump was "absolutely opposed" to the violence that took place at the US Capitol.
Meadows' attorney declined to comment.
CNN's Casey Gannon, Evan Perez , Holmes Lybrand and Hannah Rabinowitz contributed to this report.